UK reopens probe into Google's Street View data capture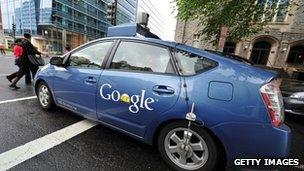 Google is back under investigation after gathering personal data while cameras on its cars took pictures for its UK Street View service.
The Information Commissioner's Office dropped an earlier investigation into the affair after being told limited data had been "mistakenly collected".
However, it said it had since become aware of reports that a Google engineer had deliberately written software to obtain a wider range of material.
The ICO has asked for more information.
Specifically it wants to know
what type of data was captured
when Google managers became aware of the issue
how the news was managed
why the full range of gathered data was not represented in a sample the Google presented to the ICO in 2010.
Furthermore it has requested a certificate to show the data has now been destroyed.
The ICO said it had been prompted to re-examine the case after a separate investigation by the Federal Communications Commission (FCC) into material gathered by Street View cars in the US.
The Washington-based government body concluded the engineer behind the computer program had told at least two other Google employees about the software, one of whom was a senior manager.
In a letter to Google, the ICO noted that the FCC had said the resulting captured data had included "complete email messages, email headings, instant messages and their content, logging-in credentials, medical listings and legal infractions, information in relation to online dating and visits to pornographic sites".
It added: "It therefore seems likely such information was deliberately captured during the Google Street View operations conducted in the UK."
A Google spokesman said: "We're happy to answer the ICO's questions. We have always said that the project leaders did not want and did not use this payload data. Indeed, they never even looked at it."
One UK-based privacy campaign group welcomed the latest development.
"The investigation must now be pursued with the vigour sadly lacking in 2010, and every effort made to ensure that Google answers the extremely important questions that it has so far avoided," said Nick Pickles, director of Big Brother Watch.
"Breaching the Data Protection Act is a criminal offence and the law should be applied to Google in the same way as any other company or individual."
Related Internet Links
The BBC is not responsible for the content of external sites.