Kodak files motion to auction digital imaging patents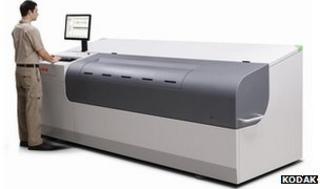 Eastman Kodak has sought permission to auction off more than 1,100 of its patents in an effort to save the firm.
The photography pioneer filed for bankruptcy protection in January. It stopped making digital cameras shortly afterwards.
The firm said it hoped to announce the winning bidder by 13 August.
Recent lawsuits have driven up patent prices, but a ruling last month against one of Kodak's key innovations may cause uncertainty about its portfolio.
Kodak, which now specialises in printing equipment, said that 20 parties had already shown interest in the sale.
Secret bids
A press release noted that it only planned to announce the winning bidder and the amount they had paid, so as not to expose the losing parties.
"The bidding procedures are designed to allow bidders to give us their best offers without fear of showing their cards to competitors," said the firm's chief intellectual property officer, Timothy Lynch.
"In filing these proposed procedures in advance of the June 30 deadline in our lending agreement, we are moving ahead as quickly as possible with the process of monetising our digital imaging patent portfolio."
The motion was filed with the US Bankruptcy Court for the Southern District of New York. If the court approves it, the 133-year-old firm aims to split its intellectual properties into two bundles.
One portfolio will include about 700 patents covering image capture, processing and transmission technologies for digital cameras and other devices.
The other batch will include tools for image manipulation, tagging and network-based services.
Kodak said it had generated more than $3bn (£1.9bn) from licensing its innovations over the past decade.
However, some potential buyers may be wary after the US International Trade Commission issued a ruling in May saying that one of the company's "preview image" patents was invalid because of its "obviousness".
Samsung and LG had already paid $964m to use the technology and Kodak was attempting to force Apple and Research In Motion to follow.
Kodak said that it intended to appeal against the decision.