Apple blocks HTC's use of Google patents in US lawsuit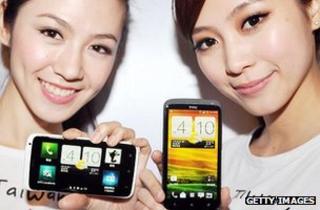 A US judge has ruled that HTC should not be able to use five patents it acquired from Google last year to sue Apple.
The iPhone maker had claimed that its rival had failed to acquire all necessary rights to the intellectual properties.
HTC said it would appeal.
One patent expert said the ruling could have major implications for other firms who regularly assigned patent rights to third parties.
Confidential terms
Google transferred nine patents to the Taiwanese smartphone maker in August last year.
The move was designed to help HTC counter-attack allegations that the Google-designed Android system installed on its phones infringed several of Apple's patents. Apple wants its rival's devices blocked from the US.
HTC subsequently amended an existing complaint it had already filed against Apple with the US International Trade Commission (ITC) to include five of the newly acquired patents.
Inventions covered in HTC's revised filing included a method to offer "zoomed displays" of characters entered on a smartphone keypad and the use of status bars offering users information updates without disrupting an open application.
Neither Google nor HTC ever disclosed the terms of their deal, but the ITC judge's decision to reject the patent complaints "due to lack of standing" suggests that he felt that whatever rights had been transferred to the Taiwanese firm were not enough to warrant their use.
"We believe the judge's decision is erroneous as a matter of law and will appeal the ruling to the commission," said a statement from HTC.
"We are confident in our ownership of the patents, and that Apple infringes our intellectual property. We look forward to presenting our case on the remaining patents to the judge at trial later this year."
Apple declined to comment.
Borrowed not bought
Patent consultant Florian Mueller, who revealed the news on his Foss Patents blog , said the news could undermine the wider "rent-a-patent" business model employed by firms which build up intellectual rights portfolios and then charge third parties a fee to use them.
"This decision appears to be a precedent for the issues raised by many of today's patent transfer agreements between aggregators - like RPX, Intellectual Ventures and the Open Invention Network - and their clients," he told the BBC.
"It will certainly force these portfolio owners to consider restructuring deals which currently include explicit buyback provisions and/or impose restrictions on how those patents can subsequently be used."
Mr Mueller does work for Oracle and Microsoft, but does not advise any of the parties involved in this dispute.
He also noted that HTC had filed a complaint against Apple in the US District Court for the District of Delaware using the remaining four patents it had acquired from Google.
He added that he believed Apple would now launch a similar defence in the case.