Apple v Google - the mapping wars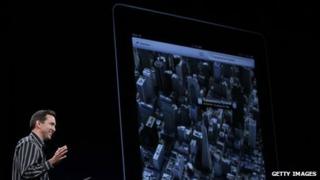 Three Californian companies - Apple, Google and Facebook - now dominate the internet and are in a battle for supremacy over our online lives. And last night we saw another important episode in the power play between these three giants.
Tim Cook's opening keynote at Apple's World Wide Developer Conference had plenty to excite the real afficionados in the form of upgrades to the MacBook Air and Pro range of laptops, rather less to a wider world which pays attention to a new iPhone or iPad but not much else.
But what was significant to the shape of the industry was Apple's growing love affair with Facebook and the deepening cold war with Google. The announcements about iOS6, the latest version of the mobile operating system which is now more important to Apple than the Mac OS itself, showed Facebook being welcomed inside the tent while Google was pitched out.
When iOS6 comes along in the autumn, hundreds of millions of iPhone and iPad users will find that Facebook is heavily integrated into everything from sharing photos to contacts and calendar entries that mirror your social networking activity.
Meanwhile, when you go to the Maps app, you will no longer find the Google product that has been there since the iPhone's launch, but a new Apple version. After buying up a mapping business last year, the company is now promising users "Apple-designed cartography, turn-by-turn navigation and an amazing new Flyover view". But not, you will note, the Google Streetview capability that has until now been available on its mobile devices.
Last week, in an apparent attempt to gets its retaliation in first, Google unveiled a series of upgrades to its Maps service, including 3D mapping much like that Flyover view promised by Apple.
Google and Apple used to be close allies, with the search firm's Eric Schmidt sitting on the Apple board. But, as was made clear in last year's biography of Steve Jobs, the iron entered the Apple founder's soul when Google launched its Android mobile operating system.
As the internet goes mobile, there's a huge amount at stake for both companies, and maps are a key weapon in the battle to be top dog. The nascent mobile advertising industry is heavily focussed on location based services, so owning the dominant mapping system could prove very lucrative.
The next move in this chess game is Google's. Presumably the firm will release a Google Maps app, complete with Streetview and 3D flyovers, for Apple's iOS 6 in the autumn. Unless Apple wants to take on the competition authorities, it will have to approve the app, and let users choose between the two mapping systems. But consumer inertia being what it is, most will probably stick with the default Apple option.
What next? Google replaced by Bing as the default search engine on iPhones and iPads? Tim Cook may seem mild-mannered compared to his predecessor as Apple CEO, but he's already shown he has the stomach for a fight.