YouTube to stream Olympics live in Asia and Africa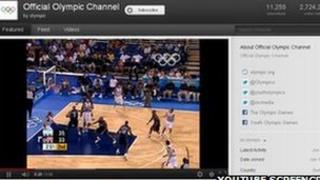 The International Olympic Committee (IOC) has announced it will stream the London Olympic Games live on YouTube.
Sports fans in 64 countries across Asia and Africa will have free access to 11 different HD channels.
The coverage will be accessible on computers, tablets and mobile devices.
YouTube declined to comment on the financial arrangements of the deal, but the rights to broadcast the Olympics on television can fetch billions of dollars.
Coverage will only be available in countries where the digital rights have not already been acquired by another party, but the level of free access is unprecedented in those regions.
The list of countries that will have access to the coverage includes India, Indonesia, Kenya and Nigeria.
YouTube, which has become the most popular video site thanks to a massive selection of home-made clips, has increasingly added professional-grade content to its line-up.
The company started live-streaming in April 2011. The first global event to be streamed live on the site was the wedding of Prince William and Kate Middleton.