Sean Parker's Airtime video chat service suffers glitchy launch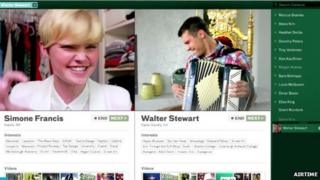 What happens when you launch a product that does not work? Sean Parker and Shawn Fanning, the two former wunderkinds behind the revolutionary music sharing service Napster, just found out.
The two took had picked a hip event space in Chelsea, New York to launch their latest venture: Airtime, a video chatting service that aims to allow friends and strangers to easily connect with each other in real time.
It is a slicker, more moneyed version of Chatroulette, a website started in 2009 by then 17-year-old Russian Andrey Ternovskiy, which aimed to connect random users from across the globe to video chat with each other.
That site quickly grew but then lost traction when it had difficulty policing the many lewd users who eventually overran the service.
Mr Parker and Mr Fanning's goal with Airtime is similar, but includes Facebook integration, more social features, and a rigorous screening process.
In a twist - after being an early investor himself in Facebook - Mr Parker has managed to raise more than $30m (£19.5m) from Facebook's other big investors, including Andreessen Horowitz and Accel Partners.
Now, if only it could just work.
Tech troubles
It was an event that had looked to be almost depressing in its slickness. Bespectacled tech press sat in the glow of their Macs, tan celebrities strutted about in five-inch heels, and soul-crushing mini-containers of Chinese food were laid out on tables.
Surrounded by the likes of chatshow host Jimmy Fallon and movie star Jim Carrey, Mr Parker stood on stage and asked grandiose questions like "Why is the internet so boring?" and made proclamations about changing the social web.
But change, it seems, was slow in coming.
"We're going to restart this computer and then find someone to blame this on," said Parker, whose face froze into a semi-blank mask as his first demonstration of the chat service with actress Olivia Munn fell apart.
What seemed to be an errant technical glitch quickly turned into a nightmare, as each successive celebrity - Ed Helms, Alicia Keys, even Snoop Dogg - struggled to deal with the endless parade of frozen screens and dropped connections that continued for an excruciatingly long time.
"Sean, you want to yell at your staff?" asked comedian Ed Helms, as his attempts to connect with Airtime's offices failed.
"I swear it worked last night," pleaded Ms Munn, as the stars shuffled uncomfortably on stage while two helpless Airtime techs tried to get the demo version back online.
"We can't even get the microphones to work," Parker muttered.
Those were eventually fixed.
Wild, Wild, West
What was notable about the Airtime launch was not so much its technical foibles, but the sheer scale of the event, a rarity in an era in which tech companies tend to launch quietly on the web before seeking fame.
This is why it is tempting to see Airtime's launch as an act of hubris, of an earlier tech age whose glamour is fading, particularly in the wake of Facebook's botched initial public stock offering.
Hubris, maybe, but also humanity.
Mr Parker and Mr Fanning were explicit in stating that what they missed most about the internet today was the lack of serendipity.
They argued that today, two teenagers like themselves would not be able to randomly find each other online because their social experiences were now so constrained.
"Facebook isn't helping you make new connections, Facebook doesn't build new relationships," said Mr Parker.
Airtime is their attempt to rebuild, in their words, the "Wild Wild West" feeling of the early web, and it is something that they both clearly passionately believe in.
Finding an audience
When asked by the BBC why he would subject himself to the scrutiny of another launch, Mr Fanning said: "If you're entrepreneurial, when an idea hits you, it tends to take over. This came out of that."
It remains to be seen if Airtime will become a service that people actually want to use, and if users will flock to it over similar services, like Apple's Facetime.
Already, the site has the backing of one big name: Mark Zuckerberg, Facebook's chief executive, who reportedly showed up on the service to chat this morning.
Revenue is another unanswered question, and both Mr Parker and Mr Fanning seemed vague on the mechanics of how the site would generate a profit.
But first, there is the small matter of getting Airtime into the hands of users.
And getting people to say what Mr Parker eventually was able to exclaim towards the end of the presentation: "It actually works."