HP improves data server centres' energy efficiency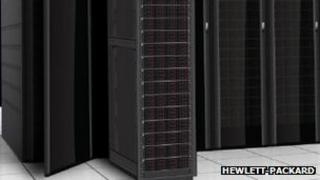 Hewlett-Packard, the world's largest maker of personal computers, has unveiled a design for more energy-efficient data centres.
According to the firm the new data centre requires 30% less energy than previous models.
An increasing amount of data is stored in cloud computing centres rather than on computers and mobile devices.
The company hopes to minimise the environmental impact and cut electricity costs.
Solar technology is one source of energy for the new HP data centre that's located in Palo Alto in California.
According to the company the efficiencies are achieved by shifting energy-intensive but non-essential tasks to daylight hours.
Prohibitive cost
The new design also incorporates energy and cooling supply from local renewable resources and has the potential to reduce dependence on grid power by 80%.
Cullen Bash, director of the Sustainable Ecosystems Research Group at HP hopes the design will encourage others to switch to the cloud.
"Information technology has the power to be an equaliser across societies, but the cost of IT services, and by extension the cost of energy, is prohibitive and inhibits widespread adoption," he said.
Modern data centres use vast amounts of electricity to run their computer equipment and also to keep it cool.
Environmental groups have called on the tech industry to adopt more renewable energy sources.
Recently the software giant Microsoft announced that from July 2012 its data centres, software development labs and office buildings would all be carbon neutral.