Zombies help ageing title Arma II top video game charts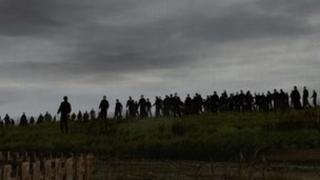 The undead have helped an ageing PC game come back to life.
Arma II was released back in June 2009 but has been a top seller on the Steam games website for most of May, thanks to an update of the game based around zombies.
The Day Z expansion, or "mod", challenges players to survive in a game world suffering a zombie outbreak.
Survival involves scavenging food and medicines, and avoiding zombies and other players who stay alive by killing people and stealing their supplies.
Day Z has been created by Dean "Rocket" Hall, a developer for Bohemia Interactive, the game studio that makes Arma II.
He put the mod together in his spare time to test a few intuitions about what players wanted from a game. If his ideas proved correct and the test got good feedback, he planned to pitch it internally as an official game mod.
However, as he told the BBC: "That was before everything went crazy."
Initially, he posted messages on discussion forums used by Arma II players asking if anyone was free to help stress test the early versions of Day Z. The plan at that time was to do the tests with 150 players on two or three servers.
"The rest just happened from there," he said.
'Permanent death'
Word got round and the mod quickly became a huge hit as those early testers shared their experiences. Within weeks of it being released, it had 4,000 players on 90 servers. Numbers have continued to climb since then and now the game has almost 150,000 regular players who control 1.8 million characters.
Mr Hall said he had deliberately made it hard to survive, so players felt threatened from the moment they started. The threats facing them go beyond just being killed and eaten by zombies. The realism of Arma II means they must scavenge food and water to stay alive, and must bandage themselves if injured or they risk bleeding to death.
A recent update introduced diseases that can only be cured with hard-to-find antibiotics and which can be spread from player to player. In addition, some players of Day Z have become bandits who prey on other people.
Statistics on the Day Z mod website show that average survival time is 28 minutes.
To these permanent threats, Mr Hall added mechanics that helped players connect with their character. Instead of characters being created afresh every time a player joins a Day Z server, they take their character and the gear they have gathered with them.
"I believe the persistent world combined with permanent death switches something over in the player's mind which causes them to play in a different way than they usually do," Mr Hall told the BBC. "It sort of hot-wires on existing emotions and instinctive processes, which I think is why players are having some really emotionally intense and vivid experiences in the game."
The huge and continuing success of Day Z had validated everything he wanted to prove about what gamers wanted, he said.
"I think if Day Z can be successful on an old game, with a complex set-up - not just the mod, but the game too - then I believe the potential for this kind of experience in something polished, easy to install, is very large," said Mr Hall.
Culture crash
Day Z is only the latest in a series of games that use zombies as combatants. Recent zombie-related titles include Dead Island; Plants vs Zombies; Red Dead Redemption: Undead Nightmare; and Dead Rising.
Games journalist Jim Rossignol, from Rock Paper Shotgun, said the undead were useful for several reasons including the "grisly" fact that psychologically speaking we enjoy committing violence against characters that are human-like.
"I'm only speaking anecdotally, but I believe that video game combat is generally more satisfying against humanoid opponents," he said.
"It's easier to not flinch from destroying humanoid enemies who are faceless or bestial in some way," he said. "If they are humanoid but some sort of 'other', such as already being dead, then they can easily be objectified."
Some scholars believe zombies have a wider cultural significance too.
UC Davis academic Dr Sarah Juliet Lauro, who studied zombies for her doctorate, said zombies were prevalent in pop culture because of the turbulent times we were living through.
"When we are suffering economic crises, that's when we turn back to the zombies," she said.
Global economic problems and revelations about the abuse of power were only serving to exacerbate the anxiety zombies represented, she said.
"We are seeing the unchecked power of capitalism, so we are reaching for this metaphor," she said. "Zombies speak in so many ways to what capitalism has done to us."