Plants 'talk' to owners via app and wi-fi sensors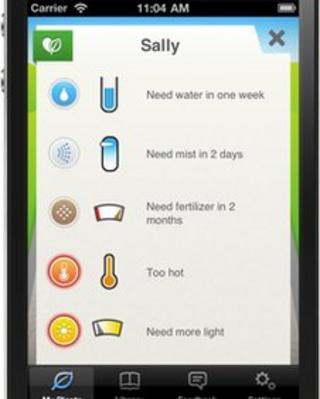 For those who are not naturally green-fingered, the idea of a talking plant may be very appealing.
Now a wi-fi sensor promises to help keep plants alive, alerting owners when their plants need water, light and food.
The sensor gathers data such as soil moisture, temperature and light intensity from plants.
The data is analysed and detailed care instructions sent to the owner via either a web-based or smartphone app.
The device is the brainchild of a Swiss firm, Koubachi, named to sound like Tamagotchi, the digital "pets" that were all the rage in the 1990s.
"The Koubachi wi-fi plant sensor is the first device ever that enables real-time monitoring of a plant's vitality," says Philipp Bolliger, chief executive officer and inventor of Koubachi.
The device, which goes on sale around Europe from 22 May, is placed in the soil of any pot plant to monitor the key "vitality parameters".
Would-be gardeners will have to pay £99 for one sensor, which can be used to monitor and set up alerts for all household plants. That includes a lifelong free subscription to the Koubachi system, including regular updates of the app and the plant library.
DIY sensors
The release date was chosen to deliberately coincide with the Chelsea flower show, the popular garden design show.
Jeremy Green of tech analysts Ovum thinks the market for smart objects could be huge.
"On the one hand you have these highly packaged solutions that do one thing but do it very well and on the other there is a huge market for DIY sensors - geeks slashing things together," he said.
The market for smart objects, or the "internet of things" as it is known, is expected to explode. According to research firm IDC Nielsen, some 1.84bn devices will be connected to the net by 2016.