UK government may miss cloud computing targets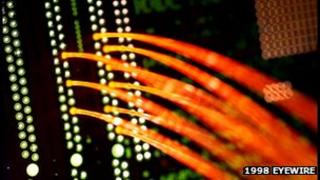 The government may miss its cloud computing targets because of a lack of enthusiasm from public sector IT staff, a report has found.
The G-Cloud plan calls for 50% of new government IT spending to move to cloud computing services by 2015.
A government "app store" called CloudStore was launched in February to offer such services to the public sector.
G-Cloud aims to reduce government IT costs by £200m per year.
Security fear
G-Cloud was first announced as part of the government's ICT strategy in March 2011. It echoes the US Government's Federal Cloud Computing Strategy which require US agencies to evaluate cloud computing options before making any new investments.
CloudStore is intended to make it cheaper and easier for public sector organisations to choose and buy "off the shelf" IT services such as email, word processing, enterprise resource planning and electronic records management that meet government standards.
It is also intended to prevent government departments getting locked into lengthy and expensive IT contracts.
But 59% of the IT staff surveyed for the report said they were "undecided" on whether to use CloudStore to buy cloud services.
The reasons given for not using the store included being tied in to existing contracts for these services, worries about security, and a lack of understanding about cloud technologies, the report found.
The study, called "Smart Savings 3, G-Cloud Progress," was commissioned by VMware, a company that makes cloud software.
Cultural shift
"Some of these are good reasons - if a department is locked in to a long term contract then that's a problem," said Andy Tait, VMware's head of public sector strategy and former deputy G-Cloud director.
"But there is also an element of cultural resistance as this is a change to the way things are done."
Only 31% of those surveyed said that they would probably or definitely use the CloudStore to procure cloud services.
But Zafar Chaudry, chief information officer at Liverpool Womens' and Alder Hey Children's NHS Foundation Trusts, believes that cloud services can provide a very effective way for public sector organisations to cut costs.
He has replaced four data centres operated by the trusts with cloud services, and said this had resulted in costs savings of 10%.
"We are in a short term contract, and in the future I will certainly be looking at the CloudStore to try and reduce costs further," he said.
"The public sector has some very old ways that need changing," he added
In a statement the Cabinet Office said G-Cloud was a new initiative and its early work on the project had been geared towards making it sustainable in a way that would make it quicker and easier to buy services.
Despite CloudStore only being launched early in the year several public sector organisations had already bought services through it, said the statement.
"Given this strong early interest we are confident that we can reach our long-term target of 50% of new public IT spending coming through G-Cloud by 2015," it added.