Virgin Atlantic allows in-flight calls - six at a time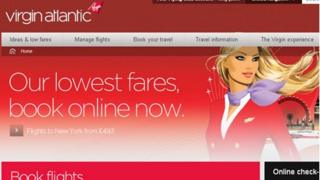 Passengers flying with Virgin Atlantic from London to New York will soon be able to make in-flight phone calls using their personal mobile devices.
Only six people will be allowed to talk at once, and phones will still have to be turned off at take-off and landing.
By the end of 2012, the service could be available on at least 20 planes, the company has said.
Analysts say that in-flight calls and wi-fi are the future, and soon the technology will be on most aeroplanes.
The service will be available on the airline's Airbus A330 from London to New York.
Mobile access will be provided by AeroMobile.
"Many people will have experienced that moment when you're about to take off on a 10-hour flight and you need to send an important message to the office, or even reminding a family member to feed the cat," Virgin Atlantic's chief operating officer Steve Griffiths said in the firm's press release.
"It's also quite fun to call home and say, 'Guess where I am' - not many people would think you're travelling at 35,000ft above the Atlantic Ocean."
Phone calls will not be free - passengers will be charged what they usually pay for international roaming calls.
Only six people will be able to talk on the phone at the same time due to limited bandwidth available on the system, said Virgin Atlantic's spokesperson.
In the United States, the Federal Communications Commission bans the use of mobile phones on aeroplanes, so passengers will not be allowed to make calls when approaching US airspace.
Although Virgin Atlantic is the first British carrier to allow passengers to make phone calls above the clouds, several others have similar services.
In 2008, Dubai-based Emirates became the first airline to allow flyers to use their phones while in the air.
Internet calls
Some passengers have been using the existing in-flight internet technology offered on a number of planes around the world for voice communications.
"I had a Skype conference with a client who was flying from Miami to Washington DC while I was in the office in Hampshire," Chris Bignell, managing director of XL Communications, told the BBC.
"I was astonished that I got a Skype message from him saying he was in the air and I thought he was joking, so I tried to call him to catch him out.
"Apparently it was about $10 [to use wi-fi] on the flight. I think mainly people just thought it was someone using an iPad but they must have found it slightly strange when he was trying to talk to me via video call.
"The quality of the video was good but the audio was not so good - mostly because of the plane's background noise - the video was fine so I took a couple of shots."
'Flight safety'
However, the head of smartphone app Viber, Talmon Marco, was told to stop making in-flight calls using his app - and was even met by police when the Delta flight he was on landed in New York.
"I placed a call using Viber to an associate to see how it's working (it was working great!) and after a couple of minutes I was approached by a flight attendant asking that I hang up," he told the BBC.
"At first I thought she was mistaking my call for a regular phone call using the cellular network but I still hung up right away and proceeded to explain that this was VoIP on wi-fi - not cellular.
"To my surprise, she said that FAA (Federal Aviation Administration) regulations forbid VoIP as well due to flight safety reasons.
"I tried to explain that there is no way that the FAA will forbid VoIP and she insisted that this was the case."
Another flight attendant then told him that calling in-flight was not an FAA regulation but part of the terms of service of the onboard internet provider, GoGo.
Mr Marco was escorted off the plane by two police officers, who then let him go.
Although in-flight communications have been slow to properly take off, there is little doubt that soon, internet browsing and phone calls at 36,000ft will be available on most planes, Diogenis Papiomytis from consulting firm Frost & Sullivan told the BBC.