Team Poison hacking inquiry: UK teenager arrested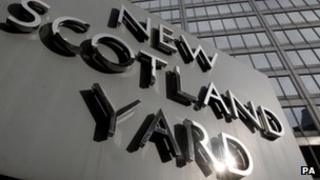 Police have arrested a 17-year-old boy alleged to be the spokesman for a notorious hacking group.
The boy is said to be a member of Team Poison, a group which claimed responsibility for more than 1,400 illegal activities.
He was arrested in Newcastle in connection with alleged offences under the Computer Misuse Act 1990.
"Computer equipment has been seized and is undergoing a detailed forensic examination," the police said.
The operation, carried out by Northumbria Police, was supported by the UK's Police Central eCrime Unit (PCeU).
Confidential investigations
Team Poison - which identifies itself as "TeaMp0isoN" online - has taken responsibility for several high-profile attacks.
It is believed to have been behind the publishing of recordings of Scotland Yard officers discussing confidential hacking investigations with American law enforcement.
Two teenagers were subsequently arrested in connection with the unauthorised intrusion.
Other hacks credited to Team Poison include accessing former Prime Minister Tony Blair's address book, and posting status updates on the profile of Facebook founder Mark Zuckerberg.