Carmageddon seeks Kickstarter cash comeback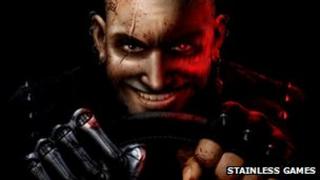 Carmageddon, a notorious video game from the late nineties, is attempting to raise crowd-sourced funding to make a return.
The original, which sold over 2 million copies, was heavily criticised for featuring excessive violence
Stainless Games aims to raise over $400,000 (£250,000) via Kickstarter.
The UK-based firm has had to set up a separate company in the US in order to receive money through the crowdfunding site.
Censorship
Bonus points are awarded in the game for driving over pedestrians.
This action was amended in the game's initial 1997 UK release following the threat of a sales ban, causing the developer to replace the victims with green-blooded zombies.
However, it was later re-released in full, as was a sequel the following year.
In subsequent years, other 3D "violent" games such as the genre-defining Grand Theft Auto sequels followed.
Despite the Carmageddon's controversy, it was well-received by the gaming community for its innovative gameplay and "action replay" feature.
'Pedestrians running'
Five of the original eight developers are still with Stainless Games and work has already begun on the new title, which is set to be called Carmageddon: Reincarnation.
"We've been able to very quickly get a prototype up and running," Neil Barnden, co-founder of Stainless Games, told the BBC.
"With pedestrians running around, we're all just spending a lot of our day laughing like drains at things that happen in the game."
Several games have been funded via Kickstarter projects, most notably Double Fine Adventure - which raised $3.3m (£2.1m).
Restrictions on the sites, mostly relating to taxation issues, mean that only US-based companies are able to raise funds through the system.
This led Stainless Games - which is based on the Isle of Wight - to come up with a workaround.
"We have a lawyer in the States as we do a lot of our business there," Mr Barnden explained.
"We had them set up a US company which then acts as the holding company for the funds that come into Kickstarter."
Intellectual property
Like many, Mr Barnden has called for Kickstarter to expand its operations to the UK and other markets.
"You'd imagine it would be in their interests to widen the base of who can actually set up a campaign."
Kickstarter was unavailable for comment.
Other sites, such as indiegogo.com and London-based PleaseFund.us, offer similar features but have thus far been unable gain the popularity of Kickstarter.
Stainless Games had to purchase the intellectual property rights from publisher Square Enix before it could go ahead with the game, despite being the game's original designer.
"Back when we made Carmageddon it was just the case that when you signed with a publisher, they automatically gained all the rights for the title.
"The original publisher of the game [SCi] owned the rights. They went away to make a third game when we asked for a break in Carmageddon for a while."
That last game proved unpopular with the series' fans.
"The new game is going to be like Carmageddon 1 and 2," said Mr Barnden.
"But not 3, we're happy to confirm that!"