WH Smith's Queen's Knickers till receipt error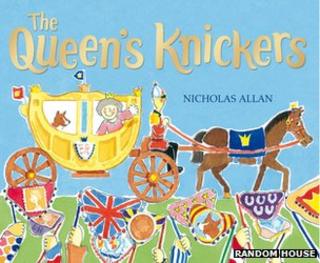 An IT error has caused WH Smith customers to be issued with receipts saying "The Queen's Knickers - £5.99" for whatever goods they purchased.
The fault affected the retailer's outlets last Thursday and was resolved the same morning.
The firm blamed a technical issue for causing one of its products to appear on every till printout.
The product involved was a newly released children's book with the jokey title.
Nicholas Allan's tale centres on the Queen's visit to a school, timed to coincide with the Diamond Jubilee, and one of the pupil's speculation about what type of knickers the monarch wears.
"Quite a few people have emailed me telling me about it, suggesting it might be a tactic by my publishing house," the author joked.
"I suppose it must have been a surprise to anyone buying an adult magazine or some other dubious product. But from my point of view the glitch is good news, as people who didn't know about the book will now," he told the BBC.
A report by The Register news site noted that hackers had flagged up the error , but WH Smith said it was not the victim of a security breach.
"We experienced an issue with our tilling system last Thursday which was quickly resolved," a statement said.
"Our tills had not been hacked. There was a temporary set-up error in the system due to a promotion change regarding a children's book."