Evernote will set up a data centre in China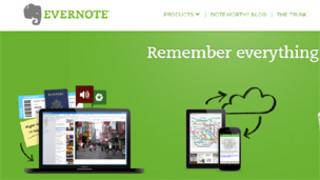 Evernote, the company behind the popular digital note-taking service of the same name, plans to tap the world's largest web community - China.
It has asked Beijing to approve the building of a data centre in China, reports the Wall Street Journal .
Evernote will have to comply with China's strict regulation of web services, which hampered the ambitions of firms like Facebook and Google.
Evernote recently received a $70m (£43m) investment.
The firm said it intends to use the money to expand internationally, especially in Asia.
Evernote offers digital note-taking, syncing users' notes with any device they log in, and allowing them to share these notes with others.
The company has also announced that it has purchased the popular Penultimate iPad app.
The firm's user base has tripled since last year - it now has 30m users worldwide, and a data centre based in China could open a market that currently has 500 million internet users.
There are some 1.1m people who already use Evernote in China, relying on servers based in the United States.
But the company faces stiff competition from a multitude of domestic clones that offer similar services. For instance, if in the West Evernote's cloud storage has Dropbox, Google Drive and Apple's iCloud among its rivals, in China, there is also Baidu's Wangpan.
Beijing's intervention
Evernote is not blocked in China, unlike a host of other Western companies such as Facebook, Twitter, Google Drive and Foursquare.
But once a Chinese data centre opens, government intervention may be likely, said Evernote's chief executive Phil Libin at a conference organised by technology blog The Next Web.
"We worry about all of that stuff [but] you can't allow yourself to be paralysed by the worries... If Chinese authorities need access to Chinese data in a lawful way I don't think it's realistic to say we'll be able to stop it," he said.
However, since Evernote's services are not primarily aimed at social networking but are rather used to create personal to-do lists, censorship should not be "as big of an issue for them as for social media companies that encourage users to share or publish information", Jeremy Goldkorn of Danwei.com, one of the most popular English-language blogs in China, told the BBC.
"The Chinese government does not operate a real thought police; they don't care what you think, or what you save on a server if it is accessible only to you.
"So as long as Evernote focuses on helping people to remember stuff and save stuff in the cloud for personal use, censorship and self-censorship will not be an issue.
"But anyone who plans to be an activist or organise against the Chinese government should not expect any protections if they save their data on servers located in China."
In 2005, the Chinese authorities asked Yahoo, which had its email servers in China, for personal information on a Chinese journalist.
Yahoo complied, and the journalist was jailed.