London to test 'smart city' operating system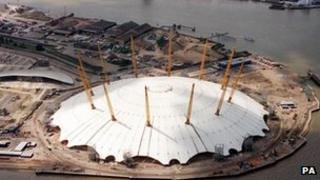 An operating system designed to power the smart cities of the future will be put through its paces in London.
Living Plan IT has developed its Urban OS to provide a platform to connect services and citizens.
With partners including Hitachi, Phillips and Greenwich council, it aims to use the Greenwich peninsula as a testbed for new technologies running on the system.
The OS aims to connect key services such as water, transport, and energy.
Urbanisation
David Willetts, Minister for Universities and Science, was among the signatories to the partnership.
"The development of smart cities in future is a crucial commercial opportunity for Britain, and London is the right place to be doing it," he said.
"London was the largest city in the world by the end of the 18th Century. Britain has more historical experience than most of being urbanised."
The Greenwich peninsula is an area of London earmarked for regeneration. New homes and offices will sit alongside a dock for cruise ships while a cable car, due to be opened in time for the Olympics, is already being put through its paces.
"We are entering a phase when everything becomes connected, from healthcare to transportation," said Living Plan IT chief executive Steve Lewis.
"This is about connecting things that previously never did."
Urban OS is different from traditional operating systems in that it is designed to be extremely robust.
"If my email is down for 10 minutes, it doesn't matter, but if the network is linked to my insulin pump, then that is different," said Mr Lewis.
In one newly built office block, Living Plan IT plans to implant thousands of sensors that will monitor external and internal conditions to create smart lighting and heating systems.
It also plans to test smart lamp posts on the roads.
"They will be talking to each other, producing their own energy, raising lighting levels when cars are coming, and monitoring the movement of traffic," said Mr Lewis.
Investment
Other technologies to be tested with the platform include smart vests that have microsensors embedded in them to monitor heart rate and other vital signs.
The idea of smart cities has become the latest hot topic in the tech industry.
By 2050 it is estimated that 70% of the world's population will live in cities.
Living Plan IT estimates that £13tn will be spent in developing and regenerating urban spaces between now and 2020.