Call of Duty Black Ops 2 to battle Halo 4 in November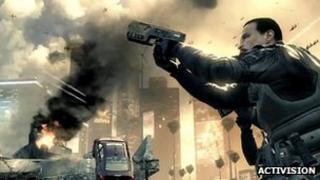 Activision has released the first details of the latest instalment in its best-selling Call of Duty series.
Black Ops 2 is set in 2025 and centres on "the enemy" taking control of the US army's unmanned weapon systems.
The title is being developed by the firm's Treyarch studio and is due for release on 13 November.
That will pitch it against the return of Microsoft's Halo series. The science fiction first-person shooter launches a new trilogy a week earlier.
Activision said the last title in the Call of Duty series, Modern Warfare 3, broke sales record grossing $775m (£465m) on its first five days on sale.
However, news site Gamasutra recently reported that analysts at Macquarie Equities had suggested that since its debut the title had underperformed its predecessor .
According to their numbers, by March the number of copies of MW3 sold was 4.2% behind where the first Black Ops title had been at the same time a year earlier.
Competition
Postings on site forums suggested that some players might have begun tiring of the format.
Video game website IGN said that a decision to develop a topical plot centred on cyber-terrorism in conjunction with Batman Begins scriptwriter David Goyer and the Brookings Institution think tank was designed to bolster interest.
"The decision to move Black Ops forward in time is a response to market saturation - there is an abundance of military shooters around - and a way to reinvigorate the genre," said games writer Daniel Krupa.
"But it isn't a strikingly original move. Ubisoft's long-running Ghost Recon series is also making a leap forward in time this year. Halo is a military shooter set in the distant future.
"Ultimately, the real future of the first-person shooter won't lie in the trenches of conflicts past or present, but in other settings with stronger narratives."