Murdoch, Google or Apple - who really counts?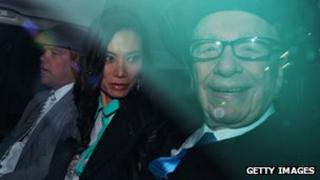 Which corporation wields most power in Britain over the way we live?
As the dramatic events at the Leveson Inquiry roll on, you might think the answer was obvious - Rupert Murdoch's News Corp. But over the last 24 hours, there has been news from two other American giants, Google and Apple, which you might argue play a far more influential role in daily life in Britain.
Last night, the staggering economic muscle of Apple was underlined again in another set of sparkling results. In the last three months, the company made over $11.6bn - that's around £8bn - and sold 35 million iPhones. We don't know just how much of that profit was made in the UK, but we can be pretty sure that Apple, which sells into the UK from Ireland and Luxembourg, did not pay much corporation tax. A report from the business magazine Forbes suggested that the figure in 2010 was just £10.3m.
But Apple's influence over the way we live is not just about economics - our methods of communication, the way our creative industries are shaped, our education system, are all being deeply affected by decisions made at Apple headquarters at Cupertino in California. What Apple does not seem to care about is lobbying politicians, and trying to shape government policy.
In many ways, a company which is self-confident to the point of arrogance seems deeply uninterested in talking to anyone but its customers. You're unlikely to find Tim Cook popping into Downing Street for a cup of tea, or senior Apple executives lunching with ministers or newspaper editors.
Now that is not the case with another Californian giant, Google. Last night the company launched its latest service, Google Drive, which allows users to store all manner of material in the cloud, and will make life harder for smaller firms like Dropbox. And if it succeeds, it will mean that millions of British users will be handing over more and more of their secrets to a company which already knows a lot about them.
Over the last decade Google has built a huge business in the UK, on course to earn around £2.5bn from advertising this year. Like Apple, it is thought Google pays little corporation tax - the firm will only say this: "We have an obligation to our shareholders to set up a tax efficient structure, and our present structure is compliant with the tax rules in all the countries where we operate."
Its almost universal adoption by UK internet users, combined with that huge flow of revenue from advertising makes Google a very powerful force in this country - certainly wealthier than most, if not all, media firms. And the company has been keen to make its voice heard in the corridors of power, with a battery of spin doctors and lobbyists.
The company has all bases covered - its most senior PR executive is a former Conservative adviser who is married to one of David Cameron's closest confidants, while its European communications boss is a former Labour Party adviser. Google's chairman Eric Schmidt has been a frequent visitor to Britain, with his speeches quoted admiringly by the prime minister.
And News Corp certainly does not underestimate Google's influence. An interesting detail in the raft of emails about the BskyB bid released at the Leveson Inquiry is News Corp's concerns that Google might have too much sway over the government's thinking on the Hargreaves Review on copyright reform.
In November 2010, the prime minister launched the review in a speech which talked approvingly of how Google had benefitted from the US "fair use" system. A month later, an email from News Corp's PR man Fred Michel describes a meeting with George Osborne's special adviser: "Gave a strong feedback on David's comments praising Google and US fair-use for the IP review. Gave detailed feedback on the pitfalls to avoid in the IP review process."
What Google does not have, of course, is a newspaper empire ready to pour buckets of ordure over politicians who fail to live up to its expectations, or to promote policies which favour its business. But, as newspaper sales decline, the power of old media empires is on the decline.
From Google to Apple, from Microsoft to Amazon, American technology firms now hold huge sway over the way we live our lives, far more than what we read in the morning papers. As politicians wake up to that fact - and run scared of being seen to associate with newspaper moguls - we can expect the voices of the technology giants to be heard ever louder in the corridors of power.