Google tackles temporary Gmail access failure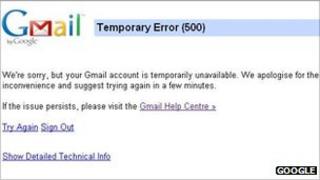 Google says it is looking into why thousands of users have been unable to access their Gmail accounts.
"We're aware that some users are experiencing an error when accessing their Gmail," a statement said.
"We are working on a resolution and apologise for the inconvenience. Thanks for your patience."
Members of the web email service from the US, France, Canada, Spain and the UK were among those to post messages about the problem to Twitter.
"It's a scary experience to have Gmail suddenly displaying a temporary error with little explanation or estimate of return," wrote Kevin Broome, a Vancouver-based designer.
"I have three accounts with Gmail and for some reason only one of them isn't working," posted Loumarie Rodriguez, a Connecticut-based student.
Google first acknowledged the problem on its Google Apps service page at 1742 BST, and said that the problem had been resolved just over an hour later.
"We've determined that this issue affected less than 10% of the Google Mail users who attempted to access their accounts during the affected timeframe," it later said.
"While we have resolved this issue with Google Mail, it's possible that some users may experience message delays because affected accounts weren't available to receive messages."
The firm declined to reveal how many people subscribed to the email service, although reports put the figure at roughly 300 million people.