Programming project comes to primary schools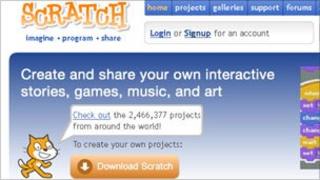 Volunteers have kicked off a project to set up after-school clubs that teach young children how to programme computers.
Called Code Clubs, the sessions will aim to instil the basics of computer programming into children aged 10-11.
The clubs will be built around practical hands-on tasks that will include children making games and eventually controlling robots.
It aims to have 25% of the UK's primary schools running a Code Club by 2014.
Free code
The clubs will sit alongside a broader national push to reform current computer lessons. These are based around children learning to use software found in offices and businesses, said Clare Sutcliffe who, with Linda Sandvik, dreamed up the Code Club project .
"We're teaching our kids to be secretaries rather than programmers," she said.
The government is in the process of changing what children learn about computers following a successful campaign that showed how important basic programming skills would be in the future.
Ms Sutcliffe said Code Club would "slot neatly alongside" changes to the national curriculum that emphasise programming.
Although in its early days, Code Club has about 100 volunteers signed up ready to help and has begun work on writing notes to guide what the clubs will teach.
Ms Sutcliffe said club sessions would be based around Massachusetts Institute of Technology's Scratch tool which lets children try their hand at programming by dragging and dropping code elements instead of typing them. Scratch is already used in many schools as an aid to computer lessons for children aged 12 and above.
A few schools have volunteered to test out the session plans once they were finished, said Ms Sutcliffe.
"The idea is to build things that are really exciting," she said. "We want them to be making stuff."
The first 12 sessions should be free for a school to run, she said. The only extra step a participating school would have to take would be to download and install Scratch on its computers. Code Club plans to get volunteers rather than teachers running the sessions.
As well as drawing up session plans, she said Code Club would also give advice and support to anyone that wanted to set up a club in their local school and win over a head teacher and a Parent-Teacher Association to the idea.