Court to consider access to Megaupload data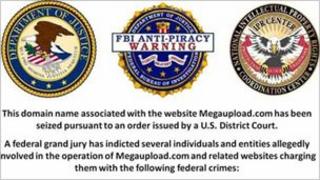 A decision on whether Megaupload users should get their data back could be made in a US court later on Friday.
Thousands of people lost access to data on Megaupload servers when the file-sharing site was shut down in January.
The closure was co-ordinated by US law-enforcement agencies, which said Megaupload had violated copyright law.
Digital rights groups will argue that data should be returned, but film studios are expected to say illegally gathered data should stay locked up.
Lost footage
The court case being heard in Virginia, US on Friday is being brought by the Electronic Frontier Foundation which is acting on behalf of Megaupload user Kyle Goodwin .
Mr Goodwin makes a living filming high school sports events in Ohio and used the file-sharing service as a back-up store and as a way for customers to preview footage.
The EFF said the closure of Megaupload and seizure of its servers had cut off Mr Goodwin, and many other users, from their data. An ill-timed hard-drive failure meant Mr Goodwin needed to get at his stored footage, added the EFF.
It wants access restored so that "innocent" users can retrieve their data.
The servers in question were in the US in a facility run by hosting firm Carpathia. It has also pressed for a decision about the fate of the hardware because it was spending about $9,000 (£5,700) a day maintaining the 25 petabytes of data Megaupload stored on the 1,103 servers.
The Motion Picture Association of America will argue in court that the servers should remain under lock and key.
It has filed legal documents that argue against giving the data back to Megaupload or its users without strict oversight. An MPAA spokesman said content produced by its members, Hollywood film studios, was more than likely to be found on the servers.
"The material on those servers would have a huge amount of infringing content and to provide it back to Megaupload without appropriate controls would be tantamount to enabling a new round of infringement," he told the BBC.
He said it had no objection to letting users get at their data provided a mechanism was put in place to ensure people were not getting at material that had been "illegally uploaded".
The situation is also complicated by the US government's decision to freeze the assets of Megaupload and its directors. Without this cash they cannot get Carpathia to turn the servers back on and let users access their data.