Bug hits new Nokia Lumia 900 smartphone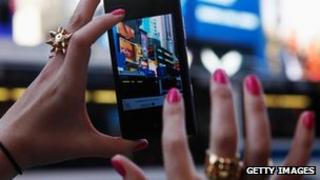 A software bug in the latest Nokia smartphone is causing some handsets in the US to occasionally lose their data connection, the company has said.
The Finnish manufacturer said a fix for the Lumia 900's "memory management issue" would be issued on 16 April.
In the meantime, affected customers are being offered $100 (£63) in call credits.
Analysts say the setback could hit Nokia's hopes of regaining market share from rivals Apple and Google.
Nokia is still the world's largest mobile manufacturer, but is losing out significantly in the smartphone market.
The Lumia 900, which was released in the US on Sunday, runs Microsoft's latest Windows Phone software. The phone is expected to launch in the UK by the end of the month.
'Prudent measure'
In a blog post, Nokia said the phone had enjoyed a "positive response" since its release, but that problems soon emerged.
"After this flagship device began selling, we identified a software issue," the company wrote .
"In short, a memory management issue was discovered that could, in some cases, lead to loss of data connectivity.
"This issue is purely in the phone software, and is not related to either phone hardware or the network itself. As a proactive and prudent measure, we decided to take immediate action."
The company said that users who wanted the update immediately could trade in their handsets for a model already running the software fix.
Gartner analyst Carolina Milanesi said it was a worrying start for a product which Nokia had promoted with a considerable marketing effort.
"It's like they stalled their engine when everybody is looking at them at the start of their race," Ms Milanesi said.
However, others praised Nokia's speed in dealing with the bug once it was identified.
"I have been impressed by their forthright, aggressive, and undoubtedly costly response," said Boston-based analyst John Jackson from CCS Insight.
Also on Wednesday, Nokia warned it expected to post losses in the first and second quarters of this year , news which saw the company's shares drop by 14%.