Draw Something is 'fastest growing' mobile game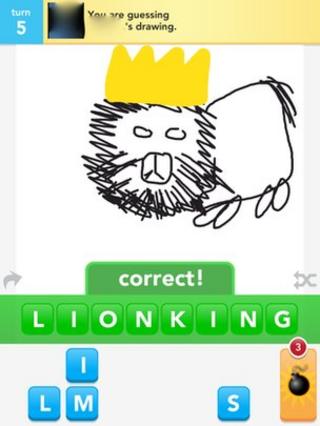 Mobile game Draw Something has been downloaded 50 million times in just 50 days, the game's owner has said.
Zynga, which bought the game's developer OMGPOP last month, said they believed the figures made it the "fastest growing" mobile game of all time.
The simple game involves players drawing pictures in order to guess words, much like board game Pictionary.
At peak times, Draw Something players create over 3,000 drawings per second.
Apple told the BBC that it did not disclose download figures for specific titles, and therefore could not verify Zynga's claim.
However, Draw Something's success has seen it top the iPhone app charts, beating the highly-anticipated sequel to Angry Birds, Angry Birds Space.
In a statement, Zynga said: "We believe it's not only the fastest growing original mobile game of all time - 50 days to hit 50 million downloads - but one of the fastest growing web sensations that we've seen."
Coin success
The company said more than six billion drawings have been created on the app so far.
In the game, players are given words to try to illustrate by drawing on a smartphone or tablet's touchscreen.
If the friend guesses correctly, coins are earned to purchase additional items, such as more colours, within the game.
Security experts have warned that scammers are trying to capitalise on the game's popularity byoffering fake prizes via social networks like Twitter.
Last month, Zynga, which owns other popular social games like Farmville, bought small New York-based developer OMGPOP for $180m (£113m; 137m euros).
After news of the buyout broke, OMGPOP chief executive Dan Porter attracted criticism after tweeting that a former employee - who did not want to work with Zynga - was "selfish" and the "weakest one on the whole team". Mr Porter later apologised.