Apple's Tim Cook visits Foxconn China factory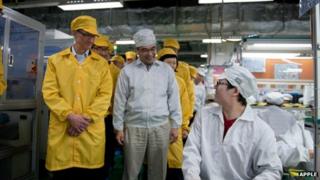 Apple's chief executive has toured an eastern Chinese factory belonging to under-fire supplier Foxconn.
Tim Cook toured Zhengzhou Technology Park, where 120,000 employees work, on Wednesday.
In a meeting, Chinese vice premier Li Keqiang told Mr Cook that foreign companies must "pay more attention to caring for workers".
Following a string of suicides, Foxconn plants have been heavily criticised by rights groups over working conditions.
Last month, the iPod-maker announced it was to send independent inspectors from the Fair Labor Association to audit the facilities.
It has yet to release its findings.
Li is widely tipped to become the next premier of China - the country which represents Apple's fastest growing market.
'Great meetings'
It was Mr Cook's first trip to the country in the top job - making him the first Apple chief executive to go there.
The company said he spent time on the production line meeting workers.
"Tim had great meetings with Vice Premier Li and other top officials in Beijing," Apple said in a statement.
"China is very important to us and we look forward to even greater investment and growth here."
In May 2011, two people were killed after an explosion at a Foxconn plant in Chengdu.
In June of the same year, and after several suicides, Foxconn installed suicide nets to factory living-quarters at its Shenzhen factory. It also said it had raised wages and shortened working hours.
However, rights groups and a New York Times investigation detailed continuing abuses - particularly in the run-up to big product launches.
'Protection'
Apple would not give further details over what was discussed with Chinese officials. However, state-owned newspaper Xinhua quoted vice premier Li as saying the country would "strengthen intellectual property rights protection".
Apple, like most electronic brands, has had widespread problems with counterfeiting in the region.
Vice premier Li added: "To be more open to the outside is a condition for China to transform its economic development, expand domestic demands and conduct technological innovation."
Neither party would comment on whether discussions covered a recent dispute between Apple and electronics firm Proview over the naming rights to the iPad.
Mr Cook was not the only high-profile technology figure to visit China this week.
Facebook chief executive Mark Zuckerberg was spotted in Shanghai, leading to rumours he might be looking to launch his social network in China, where it is currently blocked.
However, Facebook has insisted his trip was purely for pleasure.