Testing delays dog delivery of Raspberry Pi machines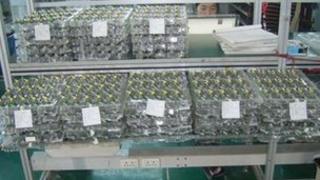 Confusion over how much testing Raspberry Pi computers need has caused fresh delivery delays.
UK suppliers of the Raspberry Pi machines are only willing to send out the gadgets once they have undergone electromagnetic testing.
Before now Raspberry Pi's creators believed it did not need these checks because it was a "development device".
This delay comes after a manufacturing "hiccup" in early March put the wrong parts on the first batch of boards.
Interference test
The Raspberry Pi is a bare-bones computer designed to help beginners and children get to grips with programming.
The confusion over compliance testing has meant that the first 2,000 Raspberry Pi computers to reach the UK are sitting on warehouse shelves instead of being despatched to customers.
Compliance involves testing the boards to ensure that they do not kick out unacceptable levels of electromagnetic noise.
This testing is required for a gadget to get the well-known CE (European Conformity) mark, which means it meets shared standards of safety.
TheRaspberry Pi organisation took to its blog to explain the delay, saying the two distributors of the device in the UK were "not willing" to ship the products until they have the CE mark.
It added that this opinion about testing"differs from our view"but said it respected their right to halt delivery while testing was done.
The organisation said it was "working to get them CE marked as soon as is humanly possible" so the first batch of machines, and future shipments, could be sent out to customers quickly. No firm date was given for when the machines would be delivered.
The organisation said it was also seeking clarification from the government about which devices did, and did not, need CE testing.
Currently, rival devices such as the Beagleboard can be delivered to UK customers without undergoing the CE testing.
Fans of the Raspberry Pi have been forced to wait longer than expected for their gadgets as in March the device's manufacturer soldered the wrong network connector to the first production run.