Smartphone makers hit by screen patent lawsuit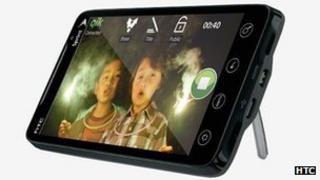 A lawsuit has claimed that six leading technology firms have infringed patents for a process that turns text and images into pixels displayed on screens.
The action was filed in a US court by Graphics Properties Holdings (GPH) - the company formerly known as the high-end computer maker Silicon Graphics.
The defendants are Apple, Samsung, Sony, LG Electronics, HTC and Research in Motion (RIM).
The firms have not commented directly.
A letter written by GPH's lawyers, Pepper Hamilton, to the US International Trade Commission (ITC) says the dispute centres on three patents filed inFebruary 1998,November 2003andNovember 2004.
The documents discuss a "hardwired supercomputer data processing apparatus" - a graphics program designed to improve the quality of images shown on a screen, and a wide aspect ratio LCD screen with a high resolution display.
According to the lawsuits, the devices that infringe GPH's intellectual property include the Apple iPhone; the LG Thrill; the HTC EVO4G; the Blackberry Torch and PlayBook; the Samsung Galaxy S and S II; and the Sony Xperia Play.
Silicon Graphics filed for bankruptcy in 2009. Although much of its operations were sold on, the remaining parts - renamed GPH - are owned by a group of private investment firms and other shareholders.
'Wide ranging'
Although the handset makers have not released statements about the dispute, letters from their lawyers to the ITC signalled that they intended to fight the case.
RIM's representatives wrote: "The Blackberry Torch and PlayBook devices provide a combination of features that may not be available on any competing product and are essential for certain public interest applications, including security and medical applications.
"Accordingly, any exclusion of RIM's accused devices will adversely affect public health, safety, and welfare in the United States."
Apple's submission said: "This broadly worded scope of GPH's proposed investigation reaches numerous devices and components, most of which have no connection to the asserted patents.
"To the best of Apple's knowledge, GPH neither develops nor manufacturers any product, including any product that competes with the devices that would be subject to any exclusion order."
Samsung also warned that the allegations were not only "defective" but also potentially damaging to the wider tech industry.
"Across all of the patent claims sought to be asserted by GPH against all of the proposed respondents, the only product categories for which specific alleged unfair acts are detailed are smartphones, tablet computers, and televisions containing LCD panels with wide aspect ratios," it said
"The currently-requested investigation, however, would reach not only products in those categories but the far broader universe of 'Consumer Electronics And Display Devices And Products Containing Same'."
A spokesman for GPH Holdings told the BBC that the firm was not speaking to the media at this point.