Microsoft Windows Messenger blocks The Pirate Bay links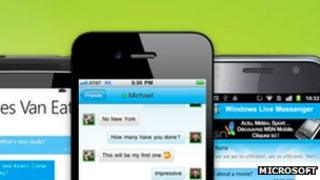 Links to The Pirate Bay's website are being blocked from appearing within Windows Live Messenger.
Microsoft confirmed it was enforcing the ban in its instant messaging program after the move wasreported by the Torrentfreak website.
The software firm signalled that it had acted to combat malware.
The Pirate Bay claims to be the world's "largest bittorrent tracker", offering users the ability to download illegal copies of films, music and software.
However, it also hosts magnetic links to lawfully available material - such as music uploaded by unsigned bands - which is also subject to the block.
'Symbolic'
Users who attempt to add The Pirate Bay links to their messages prompt a warning saying that: "The link you tried to send was blocked because it was reported as unsafe."
A statement from Microsoft sent to the BBC said: "We use Smartscreen technology to protect our customers from malicious and unwanted content including phishing, malware and spam.
"We block instant messages if they contain malicious or spam URLs based on intelligence algorithms, third-party sources, and/or user complaints. Pirate Bay URLs were flagged by one or more of these and were consequently blocked."
The firm would not comment on whether it planned to block links from other torrent sites.
Mark Mulligan, editor of the Media Industry Blog, said the move might be intended to be symbolic.
"What is underpinning Microsoft's thinking is that it wants its instant messaging platform to appear safe," he said.
"But The Pirate Bay is just one of a myriad of torrent link sites on the web. If Microsoft is serious about this it will also be researching and blocking all the others sites as well."
The news is the latest setback for The Pirate Bay. Earlier this month a Swedish company which hosts the site's web address said it had been contacted by the country's Prosecution Authority and police for information about the organisation.
The move prompted speculation that the authorities might be seeking to shut the site down, following an earlier court case that found its original administrators guilty of helping people circumvent copyright controls.
Users in the UK may also face a wider ban later this year. The High Court plans to announce in June whether internet service providers should block access to the site. It has already ruled that the organisation facilitates copyright infringement.
Several ISPs have already been ordered to implement similar measures against another filesharing site - Newzbin 2.