Google under fire in UK MPs' report into privacy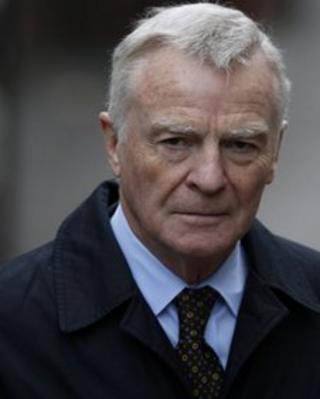 An influential group of UK lawmakers has called on Google to introduce an algorithm to remove search links found to be in breach of privacy - or face legislation to force it to do so.
It follows complaints from ex-Formula One boss Max Mosley about the difficulty he faced in getting a video removed from the internet.
The search giant argued it was not its job to monitor net content.
The cross-party committee said this argument was "totally unconvincing".
The reportby a committee of MPs and peers was commissioned by the government to look into privacy and free speech issues after a series of high profile super-injunctions were made public last year.
Celebrities including Ryan Giggs found that gagging orders against newspapers were routinely flouted online. In Mr Giggs' case, the details of his super-injunction were mentioned at least 75,000 times on Twitter, the committee said.
Its report said that online firms needed to be brought in line with offline media in such cases.
"We recommend that, when granting an injunction, courts should be proactive in directing the claimant to serve notice on internet content platforms such as Twitter and Facebook," it said.
Some of the harshest criticism was reserved for Google.
"Where an individual has obtained a clear court order that certain material infringes their privacy and so should not be published, we do not find it acceptable that he or she should have to return to court repeatedly in order to remove the same material from internet searches," the report said.
'Unconvincing'
Mr Mosley had testified that having successfully sued the News of the World over secret film it had taken, he had gone on to spend more than £500,000 on legal action to force others to remove the material from the internet.
He said that he had confronted Google saying: "Here are the pictures. We know which ones they are. Simply programme your search engine so they don't appear."
But Google had argued that while it could create algorithms to filter such results in future, it would not be desirable for it to proactively monitor the net.
The committee had greater sympathy with Mr Mosley.
"We find their [Google's] objections in principle to developing such technology totally unconvincing.
"Google and other search engines should take steps to ensure that their websites are not used as vehicles to breach the law and should actively develop and use such technology. We recommend that if legislation is necessary to require them to do so, it should be introduced," the report concluded.
In response, Google told the BBC: "Google already removes specific pages deemed unlawful by the courts. We have a number of simple tools anyone can use to report such content, which we then remove from our index.
"Requiring search engines to screen the content of their web pages would be like asking phone companies to listen in on every call made across their networks for potentially suspicious activity."
It has not been the best week for Google and its long-held promise not to censor content.
In Japan a court has ordered it to remove certain terms from its auto-complete search function after a man complained that his name was constantly being linked to criminal activity on Google.