A broadband journey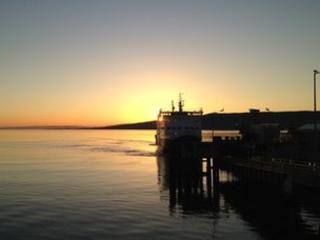 I've woken up to a wonderful view, across the bay from Rothesay on the Isle of Bute. I'm here to see a new technology which might play a part in bringing fast broadband to parts of rural Britain - more on that later this week.
But over the last 24 hours, starting off at home in London and then making my way here via Heathrow and Glasgow I've been testing the broadband speeds I've got along the way.
I've used a popular speed checker on a phone, a tablet and a laptop to log my progress. And I think the results give a flavour of what Broadband Britain looks like right now.
So here we go:
06:30 At home in London, I got 20Mbps download, 4.8Mbps upload, and latency of 12 milliseconds. Pretty good - though on a 50Mbps package you might expect more, even over a wireless network.
07:00 Waiting on a station platform, I got nothing - the network seemed to disappear.
07:15 But once on the train, I got a rather good result on the tablet. 4.35Mbps download, 1.21Mbps, 69ms latency. Better than many get at home outside urban areas.
11:00 Mid-morning, on my way to a meeting in Soho, I remembered that I still had a dongle to use with O2's experimental 4G network running in central London. I plugged it into a laptop and got 17Mbps download, 2Mbps upload, and 48ms latency. Not quite as blistering as the 90Mbps I got on the trial last November, but a good demonstration of what 4G will offer when it finally arrives.
11:05 At the same time, using a MiFi mobile broadband dongle on the Three network, I got 2.5Mbps download, 0.43 upload, 141ms latency. I've had faster results with the MiFi, but in general it delivers well in urban areas.
11:10 By contrast O2's 3G network gave me 1.1Mbps download, 0.3 Mbps upload, 178 ms latency.
I then began a rather helter-skelter journey from Heathrow, where I got similar 3G speeds to central London, on a delayed flight to Glasgow - no broadband on board of course - and then to Wemyss Bay to catch the last ferry to Bute by the skin of our teeth.
On the road to the harbour, the 3G network held up pretty well, allowing us to navigate via Google maps. But a final speed check as the ferry prepared to leave produced this:
Download 0Mbps, upload 2kbps, latency 78ms. Strange - because I was still able to send a photo from my phone to Twitter. Maybe these speed checkers aren't totally reliable.
This morning, using the hotel wi-fi I've just recorded a 5Mbps download, 0.3Mbps and latency of 85ms. Quite respectable. We must be pretty close to the Rothesay exchange - apparently at the other end of the island, speeds are much slower. And with not much chance of fibre broadband coming here, other technology may be needed to ensure that people in places like this aren't left in the slow lane. More on that later.