Friends Reunited relaunches site with 'nostalgia' focus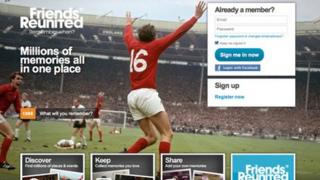 Early social networking pioneer Friends Reunited has been relaunched.
The UK-based network, which began in 2000, now invites users to sign up for its new "memories"-based service.
The original site was bought by ITV for £175m in 2005, only to be sold for £25.6m four years later to online publishing group Brightsolid.
Social media experts told the BBC the site's future prospects rely on it being able to offer "something new" to tempt users back to the site.
At its peak, Friends Reunited had over 15 million members who used the site to reconnect with old school friends.
It can confidently stake its place as being the first social network to take off in the UK.
However, as more technologically-advanced offerings emerged, such as MySpace and then Facebook, the site struggled to hold on to its user base.
'Blast from your past'
The site's owner, Brightsolid, believes a host of professional archive content coupled with users' own material will help make Friends Reunited the choice of social network for people keen to partake in online nostalgia.
"We wouldn't do this if we thought it was just another also-ran," Brightsolid chief executive Chris van der Kuyl told the BBC.
"It's about every blast from your past - every kind of great memory you have."
The site has teamed up with the Press Association and the British Library to allow users to attach old material - including newspaper clippings - to their own "memory box".
These boxes can be shared on various other networks online - including Facebook, where users can add a Friends Reunited app to their profile.
The service is currently free to use - although Mr Kuyl said revenue-generating options were being considered further down the line, including inviting brands to offer their own nostalgic material, such as old cars, to be added to users' memories.
'Nothing new'
Friends Reunited's team believe they have identified a gap, highlighted by therecent whirlwind success of image sharing site Pinterest, in which people like to curate material that means something to them.
However, social media business consultant Lee Bryant told the BBC he had little doubt as to whether the site could return to mass popularity.
"It's 'no', basically. It's hard to know what else to say. Everyone has so much invested in Facebook. Friends Reunited doesn't seem to be offering anything new," he said.
"[Scrapbooking online] is a good concept, and its time has come - but Tumblr, Pinterest - they're all doing this already.
"Facebook will pick related business models and just absorb them when the time is right."
Yet Drew Benvie, who worked as a PR consultant for Friends Reunited in 2008, said he thought there was still room for the site to attract otherwise hesitant social networkers.
"I'm quite excited to see it come back," Mr Benvie, who is now UK managing director of public relations firm Hotwire, told the BBC.
"I can see a lot of opportunity here for the slightly older social media users of today - those who aren't digital natives.
"I think what Friends Reunited could do is fill a bit of a gap for the average internet user who isn't being served by Facebook."