Budget 2012: Technology section from Treasury Budget Report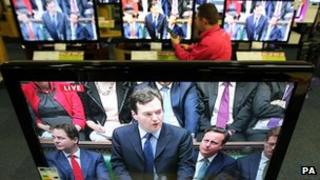 This is what the technology section of the UK's Budget 2012 says:
The government is setting an ambition to make the UK the technology hub of Europe. To support technological innovation and help the digital, creative and other high technology industries, the government:
will introduce corporation tax reliefs from April 2013 for the video games, animation and high end television industries, subject to state aid approval and following consultation.
has selected Belfast, Birmingham, Bradford, Bristol, Cardiff, Edinburgh, Leeds, London, Manchester and Newcastle to become super-connected cities as part of the £100m investment announced at Autumn Statement 2011. By 2015 this will deliver ultrafast broadband coverage to 1.7 million households and 200,000 businesses in high growth areas as well as high-speed wireless broadband for three million residents. The government will also provide an additional £50m to fund a second wave of 10 smaller super-connected cities.
Will extend mobile coverage to 60,000 rural homes and along at least 10 key roads by 2015, including the A2 and A29 in Northern Ireland, the A57, A143, A169, A352, A360 and A591 in England, the A82(T) in Scotland and the A470(T) in Wales, subject to planning permission, using the £150m investment announced at Autumn Statement 2011. The government will also consider whether direct intervention is required to improve mobile coverage for rail passengers.
Will invest £60m to establish a UK centre for aerodynamics which will open in 2012-13 and support innovation in aerospace technology, commercialise new ideas and spin-off technologies with wider applications in other sectors. This is in addition to the £125m Advanced Manufacturing Supply Chain Initiative that will help improve the global competitiveness of advanced manufacturing supply chains, such as in the aerospace sector.
Will set up a new £100m fund to support investment in major new university research facilities, including through additional provisions. The fund will allocate its first bids in 2012-13 and will attract additional co-investment from the private sector.
Will set up Transport Systems and Future Cities Catapult Centres by 2013. These will bring together world-leading IT companies, innovative SMEs and leading universities to commercialise technologies that will increase efficiency and improve the quality of life for transport users and city residents. These centres will work closely with the new Future Cities Demonstrator to be created in 2012-13.
Will transform the quality of digital public services by committing that from 2014, new online services will only go live if the responsible minister can demonstrate that they themselves can use the service successfully. The government will also ensure that all information is published on a single "gov.uk" domain name by the end of 2012 and will move to a "digital by default" approach to its transactional services by 2015.
Thefull documentis published on the Treasury's website.