Chinese author group sues Apple in piracy row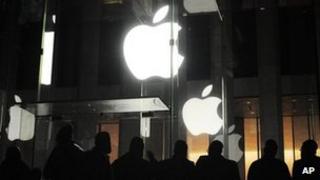 A group of 22 Chinese authors are suing Apple over claims their work is being sold without a licence in the App Store.
In three separate lawsuits 12 authors are seeking a combined 23 million yuan (£2.3m) in compensation.
Papers filed in Beijing said 59 allegedly-pirated titles were published in the iPad maker's online store.
An Apple spokeswoman said the company took intellectual property-related complaints seriously.
"As an IP holder ourselves, we understand the importance of protecting intellectual property," said Carolyn Wu.
"When we receive complaints we respond promptly and appropriately."
Wang Guohua, the lawyer representing the authors, told the Associated Press that the works were uploaded to Apple's store without the rights holders' permission.
Some titles were deleted by Apple when lawsuits were filed in January, Mr Wang added, but many titles were said to have quickly reappeared.
"Some developers, with whom Apple has contracts, put them back online again," he said.
"It is encouragement in disguise, because they did not punish the developers. The developers could have been kicked out. But nothing happened to them."
Securing rights
State-owned newspaper Xinhua reported on Sunday that the writers were seeking 50 million yuan (£5m), but this number was not confirmed by Mr Wang.
Among the authors taking action is Han Han, a well-known blogger, novelist and race car driver.
Apple's terms and conditions for traders operating on the App Store state that app developers must take their own responsibility when securing rights to publishing copyrighted material.
The battle is the latest lawsuit involving Apple in China.
Electronics firm Proview has taken the computing giant to court over the disputed ownership rights of the "iPad" name.
Apple has also come under renewed pressure over working conditions for employees at its suppliers' factories.