Apple and Samsung bury differences over iPad launch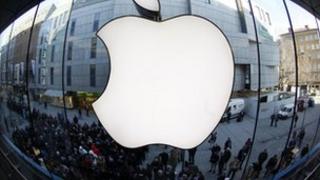 A global legal clash between Apple and Samsung has not stopped the pair working together on the new iPad.
The two firms face each other in courtrooms round the world over patents and designs for their respective smartphones and tablets.
However, a breakdown of the iPad 3 shows that Samsung makes several parts crucial to its success.
Around the world dedicated Apple fans queued overnight to ensure they got an iPad on the day it went on sale.
Chip chat
In London, one dedicated fan queued for more than 30 hours to ensure he got one of the gadgets.
The iPad 3 has a higher resolution screen, a five megapixel camera and can work with 4G mobile networks.
Repair service iFixit took an iPad 3 to pieces and discovered that at its core it had an Apple-designed processor and used chips from Broadcom and Qualcomm to handle communications.
The site iFixit said markings on the powerful Apple chip showed it was made in fabrication facilities run by Samsung. The Korean firm is also the sole supplier of the high-definition screens used in the 2012 iPad.
Samsung shares rose on the news that it was intimately involved in the manufacture of the iPad. Apple's shares also briefly rose above $600 (£382), making the firm the world's most valuable by market value.
The close connection between the two on the manufacture of the iPad stands in contrast to the bitter legal battle the firms are waging around the world. The fight has led to short-terms bans on the sale of some of the firms' gadgets.
Apple's iPad dominates the market for tablets, but it faces increased competition from Samsung, Amazon and others.
In the UK, the basic 16GB model with wi-fi only will cost £399 and the top of the range 64GB model with wi-fi and 4G will cost £659.
About 500 people queued outside Apple's Regent Street store in London. Zohaib Ali was at the front after waiting for more than a day. The scene, and waiting times, have been repeated outside many Apple stores around the world. One notable exception was China where the gadget is not yet on sale.
Apple is estimated to have sold more than 55 million iPads since the launch of the first one in 2010. Industry estimates suggest it has more than 60% of the market for tablets but competition is ramping up as rivals are available from Blackberry, Asus, Motorola, Amazon and Samsung.
Also this week mobile phone giant Nokia announced its intention to develop a tablet but gave no timetable for when it will go on sale.
The imminent release of Windows 8 from Microsoft could also spur the creation of tablets because the operating system has been built to make the most of touchscreen computing.