Landmark 10 millionth .uk site registered with Nominet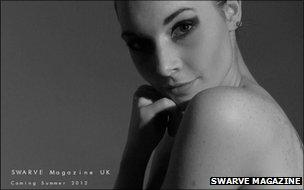 The 10 millionth web address ending in .uk has been claimed by the founder of Hampshire-based firm, SN Technologies.
swarvemagazine.co.uk was registered by Steven Northam for a photography-based publication set to launch this summer.
Registration service Nominet described the news as a "mega-milestone". It took charge of the top-level domain name in 1996 when there were 26,000 .uk sites.
However, it faces a shake-up with a huge explosion in the number of international domains later this year.
Mr Northam seemed slightly thrown by the unexpected publicity.
"It's one of our new investments" he told the BBC.
"Basically a lot of it's not public yet, so I don't want to say too much."
Nominet's chief executive, Lesley Cowley, said strong demand for a .uk address reflected the fact that it inspired trust.
"We've been growing at around the 10% for the past couple of years," she said.
"It shows the very healthy growth of the UK internet - lots of new businesses getting online and buying what is often their first domain name."
Nominet - a not-for-profit organisation - says that around 70% of the web address names are renewed at the end of their two-year expiry date making it the world's second-most popular country code.
Demand may be affected by the Internet Corporation for Assigned Names and Numbers' IIcann) decision to radically increase the number of top-level domains.
The adult-themed .xxx launched last September and Icann plans to allow a wide range of other names later this year.
The organisation is currently discussing the move with Ms Cowley and other registry managers at a public meeting in Costa Rica.
Nominet itself has applied to launch and manage .wales and .cymru. Another not-for-profit venture, Dot Scot Registry, has applied for .scot.
They will learn if they - and others - have been successful at an announcement in London on 2 May.
Nominet believes that whatever the news, the appeal of their core product will endure.
"There is a benefit to consumers and businesses to having a choice," Ms Cowley said.
"But I think that because we are so well known within the net, people will still go for .uk if that is the most appropriate suffix for them."
However, Mr Northam expressed concern at the potential expense of having to register his new magazine and other businesses with new top-level names to avoid the risk of cybersquatters - people who buy a name in the hope of selling it for a higher price.
"It causes more hassle," he said.
"Some of them are quite expensive to register. We've already got 60 domain names and if you want to protect all those by having to buy extra names like .xxx after them then it is quite costly."
Related Internet Links
The BBC is not responsible for the content of external sites.