Virgin Media wins London Underground wi-fi contract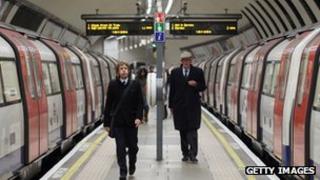 Virgin Media has won the contract to provide wi-fi to the London Underground.
The contract is only for ticket offices, escalators and platforms because it would have required major construction work to have added connectivity to the network's tunnels.
From July 2012 all Tube passengers will initially be able to connect to the internet for free.
After the Olympic and Paralympic Games it will be a pay-as-you-go service.
Virgin Media's mobile and broadband customers will be offered continued access as part of their subscriptions. Other non-paying users will be limited to a site showing online travel information.
The firm said it intended to introduce wi-fi to 80 stations by the summer, and by up to 120 stations by the end of the year.
The company's chief executive, Neil Berkett, said: "We'll help people make the most of the city and will continue to evolve the service, ensuring everyone can benefit from a service London will be proud of."
Transport for London (TfL) estimates that four million people use the Tube every day.
Deep-level deal
London Underground staff will be responsible for fitting the equipment, but the organisation stressed that the cost would be covered by the commercial contract.
"This latest innovation is great news for Tube customers, who now have access to emails, web and social media underground for the first time," said Gareth Powell, London Underground's director of strategy and service development.
"It's also delivered at no cost to fare payers and taxpayers."
Wi-fi is already available on many of the UK's overground trains. GNER was the first operator to offer the service on the East Coast Main Line in 2004. However, TfL said this would be the UK's first "deep-level" network to provide wireless internet to the public.
Glasgow's Subway has had mobile phone and wi-fi services available on its 15 platforms since 2008, but the service is not as deep underground as London's.
Some overseas networks - such as the Dubai Metro, which contains several underground stations - are able to offer continued access to customers during journeys.
The Chinese telecoms equipment firm Huawei had originally explored an option to install 3G phone and data services throughout the Tube, but TfL opted not to implement its scheme.
It was discovered that the cost of adding antennas to the antiquated system would have been prohibitive because the lack of space between the trains and the tunnels would have made building work necessary.
Virgin Media said it believed that the Tube's limited wi-fi access would not put customers at a huge disadvantage.
"Every wi-fi station you pass through is going to give you the chance to stay connected, by quickly updating Facebook, Twitter, email and the like," Kevin Baughan, Virgin Media's director of wireless told the BBC.
"Even while travelling people will have a great experience."