'£50 iPad' advertised by Tesco will not be honoured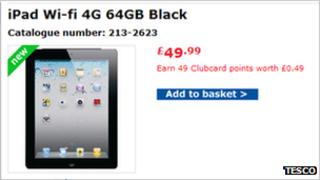 A computer glitch saw the new Apple iPad go up for sale for £49.99 on Tesco's website.
The device is not due for launch until 16 March, and will in fact be priced at £659 for the 4G 64GB model.
A spokesman for Tesco said: "We like to offer our customers unbeatable value, but unfortunately this is an IT error that is currently being corrected."
He added that no money would be withdrawn from customers who had placed orders.
The firm could not provide a figure for how many people had attempted to buy the device at the discounted price.
News of the "offer" spread rapidly over Twitter and Facebook. However, many rightly predicted the deal was too good to be true.
Cranstonp wrote: "First time I've jumped on this type of thing; I've 'bought' new iPad from Tesco. Doubtful of it arriving tho - worth a punt."
Tesco Direct'sterms and conditions state: "If, by mistake, we have under priced an item, we will not be liable to supply that item to you at the stated price, provided that we notify you before we despatch the item to you. In those circumstances, we will notify the correct price to you so you can decide whether or not you wish to order the item at that price."