Local Motion's electric cars target Silicon Valley HQs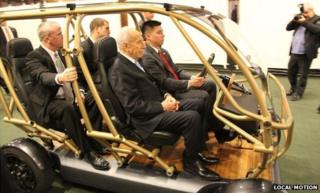 In an age when most Silicon Valley start-ups focus on creating software for web services or apps, newcomer Local Motion stands out for building a working prototype weighing 107 stone (680kg).
The innovation? A compact electric vehicle designed for short local trips at low speeds.
It may not sound world-changing, but the car could prove to be the smartest, most efficient, four-wheeler yet.
Snazzy-looking and low-slung, the open-air buggy is easy to hop on and off.
It fits a driver and three passengers comfortably inside, or seats can be removed to accommodate cargo.
Its tubular steel frame is customisable with "snap-on" accessories including doors and cup-holders and it also boasts RFID (radio frequency identification): swiping an employee badge gets it started, so anyone with valid credentials can hop in the driver's seat.
'Intelligent' design
Clement Gires, Local Motion's co-founder and his six-person engineering team define mobility as "information and service".
Their vehicles' on-board sensors detect the number of passengers, the identities of each rider, and how many trips and miles are driven daily. The cars can also sense surrounding activity, for example when a big crowd is nearby.
What is more, the cars detect mechanical troubles, crashes and flat tyres.
All of this real-time data is sent wirelessly to fleet managers who can remotely monitor the vehicles' activity and efficiency from a centralised web-based dashboard.
Trips can be scheduled in advance or live via an app that's integrated with social networks and online calendars.
The next step is to put small LEDs on the headrest of each seat. Green lights flash when a seat is free, red if it is booked. That way, bystanders can easily see how many seats are available.
Eventually, every car will have a front-facing display indicating its destination and approximate time of departure. Another idea is to partner with local repair shops so fixes can be made on the fly.
Vehicles for the Valley
Because they max out at 35mph (56kph), Local Motion's cars are safe and legal to drive on California's roads.
The no-emission vehicles plug into any outlet - just like a toaster at home.
Alternatively, the cars can use fast-charging stations similar to a Prius. Six-hours of charge provides enough juice for up to 45 miles.
"Our go-to-market strategy is to start deploying cars to campuses around Silicon Valley," Mr Gires tells the BBC.
Production-ready cars, which could be available in a year and a half, will sell for $12,000 (£7,630).
Local Motion spent a year and a half studying workforce transportation data gleaned from fleet managers in the San Francisco Bay Area.
According to their findings, US corporations spend some $2bn a year on small task-oriented "dirty" vehicles like shuttles and golf carts, most of which guzzle petrol.
Not only is Local Motion a "cleaner" option, it also costs a fraction of today's alternatives. Local Motion says its cars are eight times cheaper than shuttles.
Tech sprawl
While not an obvious hot-button issue, employee mobility is an increasing challenge for big companies, especially sprawling tech outfits in Silicon Valley, which continue to expand their workforces.
For example, social networking giant Facebook is moving its headquarters and 2,000 employees from Palo Alto to take over two plots totalling 79 acres in nearby Menlo Park.
Apple's new spaceship-like circular headquarters, scheduled to break ground later this year, is said to cover 175 acres.
And, every morning at Google, 25,000 employees descend onto its global headquarters in Mountain View which is spread over a five-mile radius.
Moving workers from building-to-building by bicycle, foot or car and re-parking again "just takes too much time" says Mr Gires.
So, Google along with other companies are experimenting with news modes of shared transportation.
Four-wheeled rivals
Some are calling the emerging trend "collaborative consumption". Players include Getaround, Relayrides, Spride Share, JustShareIt and the newly-launched Scoot Networks.
Massachusetts-based Zipcar, a well-known car sharing rental outfit, recently led a $13.7m (£8.7m) investment in Wheelz, a new peer-to-peer car sharing service.
Wheelz lets students to "rent" their own cars to fellow students by the hour or day, avoiding the need to buy or lease an entire fleet. Stanford University and University of California, Berkeley are the first to offer the unique service that allows car owners to set their own rates.
This peer-to-peer car-sharing model seems to be gaining traction.
According totech blog Gigaom, major automakers like Ford, BMW and Volkswagen are either partnering with Wheelz and other peer-to-peer car-sharing start-ups or conducting their own trials as a way to get closer to a young demographic in the hope of turning them into future customers.
Fundraising drive
Local Motion aims to compete with its big rivals by starting small. It aims to have a fleet of 20 cars available for test drives at company campuses this summer.
Google has already signed on and Microsoft has also booked test-drives. But to get its pilot program up and running Local Motion still needs to raise $4m.
Fortunately, it received an enthusiastic response at last week's Launch conference in San Francisco.
Local Motion did not win any of the start-up event's prize money, but it did manage to attract some new investment leads and attention.
Israeli President Shimon Peres, who keynoted the event, went for a ride - presenting an enviable photo opportunity. Apparently, members of his staff also expressed interest in bringing the cars to Israel.
Local Motion also impressed Tony Hsieh, founder of Amazon's clothing company Zappos and one of Launch's judges.
Mr Hsieh said on-stage that he envisioned Local Motion's eco-friendly electric buggy's shuttling 1,500 employees around his firm's headquarters.
Another judge and successful entrepreneur, Tim Young, named Local Motion one of his favourite start-ups. He suggested bringing the firm's cars to Vmware, the 100-acre Silicon Valley campus where he's an executive and the two companies are now in talks.
Besides campus workplaces, Local Motion is also eyeing operators of shopping malls, gated communities, and municipalities as target markets.