Lady Gaga hits 20 million Twitter followers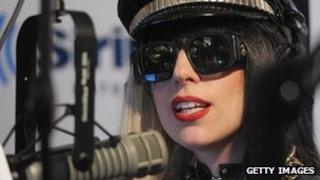 Lady Gaga has become the first Twitter user to reach 20 million followers.
The singer tops the microblogging site's most popular list ahead of fellow pop stars Justin Bieber (18 million), Katy Perry (15.7 million) and Shakira (14.5 million).
Gaga's massive following is in addition to 48 million fans on Facebook and more than 800,000 "circles" on Google+.
Unlike some other stars, the best-selling singer has said she personally updates her account.
Last month, she revealed she was preparing to launch her own social network, Little Monsters.
A preview holding page for the new sitesuggests it may resemble popular image-sharing sitePinterest.
Fans have been invited to sign up and receive an invitation to test the site.
Listening mode
Lady Gaga's latest album, Born this Way, has sold about eight million copies - thanks in part to a considerable social media marketing effort.
As well as her huge presence on Twitter, Facebook and Google+, the 25-year-old has also teamed up with social gaming giant Zynga to launchGagaVille- a Lady Gaga-inspired take on the massively popular game Farmville.
Stewart Townsend, from Twitter marketing and analysis firm Datasift, said he believed Lady Gaga set an example of how marketing via social media should be done - not just for celebrities, but also for companies.
"She's active, she participates, she listens, she engages," he told the BBC. "A lot of brands or agencies are just in listening mode - and don't react."
However, he added that traditional techniques - such as promotion on TV and radio - were still just as crucial.
"You still need the old-school media to push and vocalise that output," he said.