TED 2012: Low-tech machine offers new crop for Africa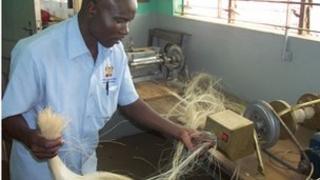 Much as the spinning jenny is credited with helping kick-start a new era of industrialisation in the West, so it could be simple machinery that inspires change in the developing world.
Newly appointedTEDfellow Alex Odundo is passionate about the sisal plant - its fibres can be made into rope.
He has high ambitions for a plant he believes can help lift 10,000 farmers out of poverty.
"This is our saviour," he told the BBC. "In our community sisal does well with only a little rain."
Rain drain
Life in rural Kenya is very much tied into how much it rains. Lack of rainfall means little or no crops.
As a young boy, Mr Odundo remembers how, when crops failed, he helped his mother harvest the fibres of sisal.
"We used small machines with metal knives. The work was tedious and hard and at the end of the day you get very little," he said.
"I said to my mum, 'I will make you a machine.'"
He thought it would take a week or two but in the end it took 10 years and many different designs.
The first was made of wood, the second a hybrid of wood and scrap metal begged and borrowed from neighbours.
It was only when Mr Odundo moved to Kisumu City to study at the technical college of engineering that his dream began to become a reality.
Rope economy
Now 10 years on from the original promise to his mother, his finished product allows farmers to strip the fibres out of the sisal plant more easily.
It was a great breakthrough and, after so many years of work, many would be happy to stop there. But Mr Odundo saw there was even greater potential.
"Farmers sell the sisal fibre for 20 Kenyan shillings but rope with the same amount of fibre sells for 200 shillings (£1.50)," he said.
So he set about creating a machine that would convert sisal into rope. That didn't take quite so long - just five years.
According to the Kenyan Ministry of Agriculture, the world's demand for rope outweighs the amount made by a ratio of almost two to one.
Of the 250,000 tonnes of rope produced over the past three years, Kenya produced just 25,000, according to the ministry.
It realised there was a burgeoning industry and began its own search for a rope-making machine.
Eventually it heard about the work being done by Mr Odundo and is now working to convince farmers to buy his machines.
Mass production
Currently they are not cheap by Kenyan standards, with a price tag of 85,000 shillings (£650). Mass production would dramatically reduce the cost, he believes.
And he has found farmers willing to buy. Currently he has sold 18 machines and the farmers who invested are reaping the rewards.
Mr Odundo estimates that rope production using the machine can yield farmers 6,000 shillings (£45) a day. Traditional crops would bring in just 150 shillings (£1.10), he said.
He is already working on other projects, including a water pump for a new type of irrigation and a wind power generator, but his heart remains tied to sisal.
"It could become a really big project," he said.