Device to fight anaemia in India about to go on sale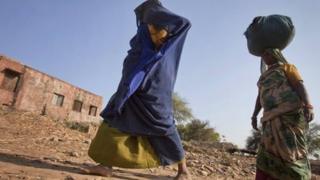 Healthcare in rural India is often basic, meaning people die unnecessarily.
Take anaemia for instance, more than half the cases can easily be cured with a course of free iron pills, but if left untreated it is potentially fatal, especially for pregnant women.
Massachusetts Institute of Technology graduate Myshkin Ingawale first heard about the problem from friends who worked as young doctors in remote areas of India.
"One in five deaths among pregnant women was traced back to this. I was not aware of this problem but my friends were seeing it on an ongoing basis in the field," he told the BBC.
Mr Ingawale decided to put his technology background to the test and come up with a solution that would be easy for healthcare workers - often untrained - to use in the field.
Lunch box
"I knew a little about technology and how to put things in a box," he said.
He took his inspiration from an unlikely source - Hollywood.
"I had seen this machine in Hollywood movies - when someone was lying in a hospital bed they were hooked up to it," he told the BBC.
The device he is talking about is a pulse oximeter, a non-invasive method of monitoring the oxygenation of haemoglobin using light. The patient is attached to the machine via a finger clip.
A similarly non-invasive device was perfect for his needs because healthcare workers in India are often not trained to conduct blood tests using needles and lack the equipment to assess the results of such tests.
"I found that there was no commercial availability of a device to measure haemoglobin in the same way," said Mr Ingawale.
So he set about designing one.
"When we first saw it is was just circuitry housed in a lunch box," said Noah Perin, commercialisation officer at the Program for the Appropriate Technology in Health (Path).
Path follows the development of new medical technologies and has been looking for devices that can help detect anaemia for the past 20 years.
No needle
The finished product was a little more sophisticated, a hand-held, battery-operated device that can measure haemoglobin levels without the prick of a needle.
Known as TouchHb, it comes with a probe into which the finger is inserted. When light-emitting diodes in the probe shine light through the nail, a photodiode on the other end interprets the absorption patterns to produce an instant reading of the volume of haemoglobin in the patient's blood.
It can diagnose anaemia in less than a minute and is currently being piloted in clinics in South India as part of the vital data collection exercise that could see the device go commercial later this year.
The batteries can be recharged and are expected to last for more than 100 tests. The probe will also require yearly maintenance.
Mr Ingawale's firm, Biosense Technologies, aims to sell the machines for between $200 and $300 (£125-£188) and the cost of individual tests will be just 5 rupees (10 cents; 6p).
The costs are outweighed by the benefits, he thinks.
"Pregnant women are recommended to get a haemoglobin test at least once in every trimester of their pregnancy but it is inconvenient for a women to walk to the nearest primary healthcare centre that could more than 5km away," he said.
"They do not feel sick enough to justify that trip that could even come against losing a day's wages, so a large number of women skip the screening and monitoring."
With this simple test, available in their own community, there is much greater likelihood of spotting and subsequently treating anaemia, he suggested.
Local need
"We are quite excited about it because it is targeted at and developed for front-line health workers," said Mr Perin.
"This device won't cure anaemia but it can have a dramatic impact in alerting people to the fact that they have a problem," he added.
Mr Ingawale wants to see more devices developed at grassroots level, based on the needs of patients in the field.
"There needs to be a rethink in the way healthcare is delivered to people. It needs to be far more decentralised. It can become a consumerist movement in the same way that Wikipedia has been for information," he said.
Mr Perin agrees.
"We have seen devices like this before but they have been huge sophisticated machines made for the developed world and adapted. There is a real advantage in inventing devices based on local needs," he said.