Mobile World Congress: The UK firms hitting Barcelona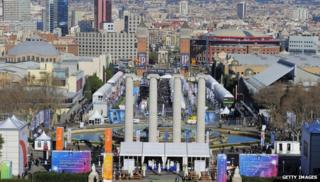 Next week, over a thousand companies will head to Barcelona to participate in Mobile World Congress (MWC) - the biggest mobile industry event of the year.
Each will be trying to attract the eye of approximately 60,000 delegates, some of whom will be the most influential names in the business - contacts who can offer deals potentially worth millions.
In November 2011, UK Trade & Investment (UKTI) began the process of whittling down 79 UK-based mobile orientated companies down to just four as part of itsSmart UK Project.
Those four final companies are now Barcelona-bound, and will be pitching to a select panel of judges at the event to say why they should be given the title of the UK's "most innovative mobile company".
The winner will receive the UKTI's backing to expand its business around the world.
"Each year we try and find a new way, or a new angle, to raise the profiles of UK companies," said John Davies, a UKTI representative.
"We looked at the whole ecosystem of mobile.
"We're not just talking about applications or what's on the latest smartphone - but also infrastructure and the delivery mechanisms around the mobile space as well."
Judge Russell Buckley, who was an executive at the now Google-owned mobile ad firm AdMob, said it was important to involve a diverse range of companies in the competition.
"There was a lot of competition - we chose companies that were representative across the whole board of mobile, and not just one specific part of it.
"All the companies have been successful, got quite a long way with relatively little resource so far."
The winner will be announced at the event on Wednesday. Here are the companies who will be fighting for the accolade:
P2i
P2i will seeking to impress judges with a product that began its life as an intriguing military defence tool - a cost-effective way of coating an ultra-thin "nanoscopic polymer layer" onto the protective clothing of soldiers.
The technology - called Aridion - would fend off anything everything from rain water to harmful chemicals.
Thankfully, most people's gadgets will never face a warzone - but that's not to say they don't face life-threatening situations of their own as they encounter spillages, sudden downpours and the seemingly frequently occurring nightmare of being dropped down the toilet.
P2i has secured several contracts to use the same military coating technology on smartphones and other precious devices.
Rather than simply make the objects watertight - like other waterproofing technology on the market - P2i covers every component of the device with an extremely thin protective layer which is one thousand times thinner than a human hair.
"You can't see it and you can't feel it," says Stephen Coulson, the company's chief technical officer.
"The only value to protecting an entire product is by applying the technology to every part - this is what we have patent protected now."
QRpedia
QRcodes - the small squares filled with little black marks - are often seen as something of a neglected medium, used by advertising agencies in inappropriate places simply to direct people to a standard web site.
However, QRpedia - which has been in existence for less than a year - believes it is on to something with its language-detecting innovation.
ReadWriteWeb agreed, calling it "probably the coolest QR thingy ever made".
Already used in dozens of galleries, museums and archives, QRpedia allows exhibitors to simply display a QRcode next to an item of interest. Visitors can scan this code and receive information, via Wikipedia, about the exhibit in their native language.
It means, lead developer Terence Eden says, visitor interaction can be taken to a whole new level.
"When you have young people coming into museums they want something a bit more interesting than just a small postcard of information."
The service has served up over 35,000 pages of information since it was launched.
"We started off with a trial at a Derby museum," Terence continued.
"We now have a team of volunteers all over the world."
Datawind
In the developing world, billions of people are still without access to the internet.
Suneet Singh Tuli believes his tablet is part of the solution to that problem.
As co-founder and chief executive of wireless specialists Datawind, he wanted to produce an internet-capable device which cost the equivalent of a typical week's salary in India - about $50 (£32).
And produce it he did: the Aakash tablet, built in conjunction with the Indian government and distributed to students at a subsidised price.
Not only is the hardware cheap, but Datawind's patented method of web compression and data acceleration means rich web content can be downloaded at a fraction of usual costs.
"This technology tackles the global digital divide," Suneet says.
"[It] decreases the disparity of education through technology among less developed nations therefore bridging the digital divide between gender, income and age group."
Blippar
Regular readers of the BBC News website may already be familiar with Blippar - the augmented reality company sponsored by UKTI toattend the Consumer Electronics Show in January this year.
The company, which works with brands to provide interactive advertising, wants to build on the publicity gained at the Las Vegas event and cut a few deals with high-flyers in Barcelona.
"It's about networking with potential clients, suppliers, staff - keeping our ear to the ground as far as understanding what's happening in the mobile space," says co-founder Jess Butcher.
"There's no more important forum for our company right now."