'Third of UK postcodes' have slow broadband speeds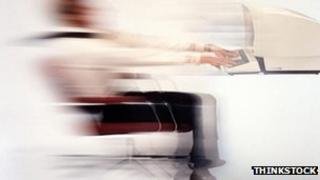 A third of homes in the UK have broadband speeds well below the national average, according to research from price comparison site uSwitch.
While half of addresses get broadband speeds of 6.7Mbps or above, a third struggle to get speeds above 5Mbps, 1.7m speed tests found.
The East Sussex village of Winchelsea was the slowest, with an average speed of 1.1Mbps, according to uSwitch.
Hereford was the slowest city, with average speeds of 3.1Mbps.
The government wants to see super-fast broadband as the gold standard in most UK homes, and has pledged to make the UK the fastest broadband nation in Europe by 2015. By that time, it also promises to make sure that all homes have speeds of at least 2Mbps.
The uSwitch data - based on 1.68 million speed tests carried out over the last six months - suggests that there could still be some way to go.
"Britain might be riding the wave of a super-fast broadband revolution, but for 49% who get less than the national average broadband speed, the wave isn't causing so much a splash as a ripple," said Julia Stent, director of telecoms at uSwitch.
"And what's really surprising is the number of cities and towns such as Hereford and Carlisle that are suffering from slow broadband speeds, dispelling the view that it's just rural areas and small towns that have issues with their broadband," she added.
Other towns and cities to offer average broadband speeds of below 5Mbps include Kilmarnock (3.2Mbps), Dumfries (3.6Mbps), Canterbury (4Mbps) and Shrewsbury (4Mbps).
Fast pipes
The government has provided £530m to help local councils fill in the UK's blackspots. Cumbria, which has several areas in the top 10 slowest postcodes, received the biggest amount, with more than £17m to cope with its 96% of homes eligible for subsidies.
Councils will have to put some of their own money towards the costs, and some have been slow to get the projects off the ground.
For those in well-connected postcodes, the news is much better.
Both Virgin Media and BT have recently turned up the speed dial on their broadband services.
Virgin announced that broadband with speeds of up to 100Mbps was now available to 10 million homes, while BT pledged to offer some homes speeds of up to 300Mbps by 2013.