Cloudstore: Government launches public sector app store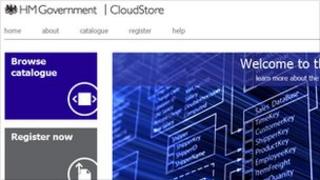 The government has launched a new "app store" which it says will help small businesses offer IT services to the public sector.
The Cloudstore, as it will be known, will feature more than 1,700 apps provided by more than 250 suppliers.
It is hoped the service will allow organisations to purchase services on a "pay-as-you-go" basis, rather than be locked into lengthy contracts.
About 50% of apps are being provided by small- to medium-sized businesses.
They typically include services such as email, word processing, system hosting, enterprise resource planning and electronic records management.
The Cloudstore would help contribute to overall planned savings of £180m by 2015, the government said, although a spokesman admitted it was "difficult to anticipate total saving with the constant changes in technology".
Francis Maude, Minister for the Cabinet Office, said: "Simply stated, purchasing services from Cloudstore will be quicker, easier, cheaper and more transparent for the public sector and suppliers alike."
The scheme is part of a wider effort to move more government services to "the cloud" - a method of computing where software and information is stored on a central server and shared across a network.
'Matter of weeks'
The site was built by Hampshire-based development firmSolidsoft.
The company's chief executive, Garth Pickup, told the BBC the site was created in "just a matter of weeks", and there was still work to be done.
"At that moment it's a catalogue - the store functionality is not there just yet," he said, adding that the government had yet to decide who would continue development of the site.
One of the businesses involved in the scheme is Jadu, a firm which provides web content management, online forms and mobile web tools.
Chief executive Suraj Kika welcomed the scheme, but said it was important for potentially reluctant government departments to be encouraged to use the service.
"Cloudstore represents a revolution in how the public sector buys software and services," Mr Kika said.
"This bold move has potential to showcase the UK as a global leader in online service delivery, providing the procurement culture in government evolves to take advantage."
It is as yet unclear if Solidsoft, which has so far not charged for developing the site, will be responsible for the site's future direction. Discussions over this are said to be due to take place on Tuesday.
"We'd be looking to build in an evolutionary approach to this - every day something new coming along," Mr Pickup told the BBC.
"The best websites tend to be highly reactive about how people are using their sites and the feedback they get. It's much more effective to have an agile approach."