Patents: Apple wins over Motorola in 'slide-to-unlock' ruling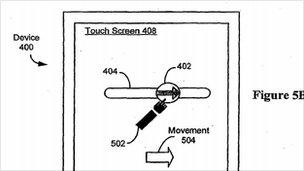 Apple has won a patent dispute against Motorola Mobility regarding a "slide-to-unlock" feature on smartphones.
The judgement marks Apple's first patent victory over Motorola in any part of the world.
Patent consultant Florian Mueller said the ruling could affect patent disputes involving Android device makers worldwide.
Motorola said it planned to appeal and the judgement would have "no impact" on supply or future sales.
A spokeswoman for Motorola said: "Today's ruling in the patent litigation brought by Apple in Munich, Germany, concerns a software feature related to phone unlocking in select Motorola devices sold in Germany.
"Motorola has implemented a new design for the feature. Therefore, we expect no impact on current supply or future sales."
Apple said it would not be commenting on the decision.
Motorola Mobility is in the process of being acquired by Google, and most of its handsets run on the search firm's mobile operating system, Android.
The Android system is Apple's closest rival in the mobile market.
Mr Mueller, a patent expert who has in the past consulted for Microsoft, described the ruling as a "very significant win for Apple against Android".
"After Google closes the acquisition of Motorola Mobility, the Apple-Motorola Mobility dispute will soon gain importance transcending that of the global battle with Samsung," he said.
While this decision relates solely to activity in the German market, the decision could potentially help Apple with other patent disputes in other parts of the world, Mr Mueller added.
"Apple is already asserting the slide-to-unlock patent in different jurisdictions against all three leading Android device makers and might use it against even more of them going forward."
The patent in question - EP1964022 - relates to the process of unlocking a smartphone by simply swiping a finger from one area of the screen to another.
Related Internet Links
The BBC is not responsible for the content of external sites.