Apple iPad China sales and shipments threat in name row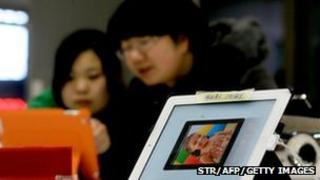 A Chinese company is to ask customs officials to block shipments of Apple's iPad both into and out of the country.
If the request succeeds, it could affect global sales as China is a key manufacturing base for the company.
The move follows a long-running dispute between Apple and electronics firm Proview over ownership of the iPad name.
Last year Proview won an initial judgement in a mainland Chinese court, which Apple has appealed against.
Proview said it is contacting officials across China with a view to blocking sales of the product.
Proview lawyer Xie Xianghui said: "We are now working on a request to China Customs to ban and seize all the import and export of the iPad products that have violated the trademark."
'Worldwide rights'
Local media reports said that several dozen iPads were taken from shelves in the city of Shijiazhuang just south of Beijing.
In a statement Apple said: "We bought Proview's worldwide rights to the iPad trademark in 10 different countries several years ago.
"Proview refuses to honour their agreement with Apple in China and a Hong Kong court has sided with Apple in this matter. Our case is still pending in mainland China."
While this dispute continues, it is widely anticipated that Apple will announce the launch of the next version of the iPad in March.
The speculation has not been confirmed by Apple. The company is notoriously close-lipped about future releases.