Apple seeks change to 'essential' patent licence rules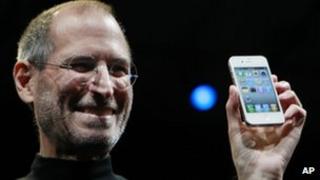 Apple has asked for more clarity over how patents deemed crucial to industry standards should be handled.
The firm wrote a letter to the European Telecommunications Standards Institute (ETSI) in November, which hasnow been reportedby the Wall Street Journal.
The iPhone maker called for "more consistent and transparent" application of rules designed to ensure that such intellectual properties were licensed.
Both Samsung and Motorola Mobility have sued Apple over "essential" patents.
The document has sincebeen published in fullon the Foss Patents blog.
It centres on what are termed Frand principles - an agreement to license technologies critical to a recognised standard, such as 3G networks or MP3 files, under fair, reasonable and non-discriminatory terms.
Companies that sign up to the rules agree that they cannot discriminate who gets to use their invention so long as they are paid a fee, which cannot be excessive.
Three-step plan
Apple notes that it committed itself to the agreement in 2007 - although it has launched numerous lawsuits concerning its rivals' alleged infringements of its non-Frand innovations.
The company's request lists three specific points:
Parties should only be able to claim an "appropriate royalty rate", both at the start and end of negotiations.
There should be a "common royalty base" - in other words, the patent's value should be determined as a percentage of the cost of the relevant components rather than the device as a whole.
Patent owners should commit to a "no injunction" policy under which they do not seek to block the sale or shipments of rivals' equipment on the basis of a Frand-patent dispute.
"Apple is committed to this framework, provided that other parties reciprocate," said Bruce Watrous, the firm's chief intellectual property counsel.
Foss Patents' author, consultant Florian Mueller, links the letter to9 To 5 Mac's revelationlast September that Samsung had sought 2.4% of Apple's sales prices for each of a series of 3G-related Frand-type patents that it contested last year. The case was rejected by a Dutch court.
The European Commission has subsequently notified Samsung that it is investigating whether the firm had used its rights to "distort competition in European mobile device markets".
Blame game
Mr Mueller also notes thatMotorola Mobility sought 2.25%of Apple 3G-enabled iPhone and iPad sale prices when Apple sought to license the Razr phonemaker' s GPRS-related Frand-innovations.
Apple had to briefly remove several of its devices from its German online store last week because of the dispute with Motorola.
However, one patent lawyer suggested that Apple was not blameless in the spate of recent lawsuits.
"Steve Jobs effectively declared war on Samsung and Android - so the litigation has been emotionally charged," said Ilya Kazi from the UK's Chartered Institute of Patent Attorneys.
"It is fair to say that most manufacturers are in favour of Frand-type agreements - at least when they are on the receiving end of a lawsuit.
"The issue is whether this letter has a great deal of legal significance. Frand is a great principle but there is also the underlying principle of letting patent holders enforce their rights."