Google 'Solve for X' meetings target tech 'moonshots'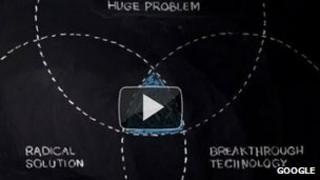 Solutions to the "world's greatest problems", ideas dubbed "technology moonshots", are the focus of Google's latest attention-grabbing venture.
"Solve for X" meetings bring together "entrepreneurs, innovators and scientists" to crack global problems.
Executive chairman Eric Schmidt has already hosted one "Solve for X" event. Google plans to hold others "a few times a year".
The plan has been compared with the annual TED and Ted Global conferences.
Ina blog post written by Astro Teller and Megan Smith, the search firm says: "Moonshots live in the grey area between audacious projects and pure science fiction; they are 10x improvement, not 10%. That's partly what makes them so exciting."
Google has already posted a number of Solve for X talks from its inaugural event, held last week in the Cordevalle resort in San Martin, California. Of that event, Mr Schmidt tweeted: "Last week we hosted a conference on the real ideas of the future... no longer science fiction."
Solve for X talks, Google says, are selected on the basis of being able to answer three questions: "Does it highlight a huge problem?"; "Is there a concrete solution that could make a radical impact?"; and "Does it explain breakthrough science and technology that could enable this solution?"
Topics covered so far include: "What if it were possible to literally take pictures of the mind's eye?"; "The dark side of Moore's law, the exponentially growing amount of electronic waste"; and "The future of expertise."
Some of the talks have already been posted online on the project's websitewesolveforx.com.
Global ideas
The series of meetingshas parallels with the TED talks- conferences which claim to "bring together the world's most fascinating thinkers and doers".
Videos of TED speakers are highly popular online, and with a mission statement which includes "the power of ideas to change attitudes, lives and ultimately, the world", many have drawn parallels between TED and Solve for X.
Bruno Giussani the European director of the TED conferences said he applauded the Google scheme "The world needs more ideas, not fewer and more commitment to sharing them freely and openly so that collectively we can test-run them and turn them into reality".
"Google being at the origin of this, obviously technology and engineering will play a big role in Solve For X," he added.
TED conference speaker and writer Alain de Botton thought the appetite for such events "reflects the way that people want to be exposed to exciting ideas outside their discipline. It's one of the promises of the internet that it does provide a forum".
But he said they must be more than just talking-shops: "It's important that these ideas have a home to go to, that they also have a chance to develop into a good intervention in the world as well."
Both TED and Solve for X seek to bring together leading experts and innovators, lending them an air of exclusivity - most will experience these conferences vicariously by watching talks online.
But Mr de Botton said he thought that in some respects, virtual attendees were more fortunate than those actually present.
"These luxury conferences get put online for everybody. The people at home get a better deal because they don't have to sit through the long lunches and the endless card swapping," he said.