Acta: Europe braced for protests over anti-piracy treaty
By Dave Lee
Technology reporter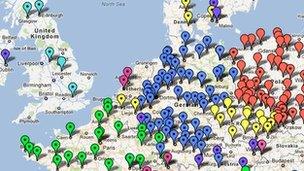 Further protests in opposition to controversial anti-piracy measures have taken place, with another 100 expected to happen in Europe this week.
A petition calling for the rejection of the Anti-Counterfeiting Trade Agreement (Acta) has attracted over 1.75 million signatures.
The treaty intends to standardise copyright protection measures, but has been heavily criticised.
On Saturday, about 2,000 people marched in the Slovenian capital, Ljubljana.
More co-ordinated action is expected to take place across Europe on 11 February.
The Slovenian protests were spearheaded by the country's ambassador to Japan, Helena Drnovsek Zorko, and follow similar protests in Poland in which tens of thousands took to the streets.
Last week, Ms Zorko apologised for her "carelessness" in signing the treaty.
"Quite simply, I did not clearly connect the agreement I had been instructed to sign with the agreement that, according to my own civic conviction, limits and withholds the freedom of engagement on the largest and most significant network in human history, and thus limits particularly the future of our children."
She urged opponents of Acta to attend the protest in Ljubljana "in my name".
In tandem with the "real world" protest, the website of NLB, Slovenia's largest bank, was temporarily taken offline by hackers.
Activism websitestoppacta-protest.infolists more than 100 protests scheduled across Europe on Saturday, including events in London, Munich and Paris.
Other developments involving Acta include:
Following huge protests in Poland, Prime Minister Donald Tusk said he would hold off plans to ratify the agreement, admitting that the negotiation process "did not involve sufficient consultation".
Swedish government websites - including sweden.gov.se - were reportedly taken down for a brief period by hacking collective Anonymous.
In Greece, daily newspaper Athens News reported that hackers gained access to the justice ministry's website, posting a video demanding that the government "stop Acta".
Ahead of larger protests in the UK this weekend, a handful of protesters gathered in Nottingham's Old Market Square on 4 February.
Last month, the European Parliament's rapporteur for Acta, Kader Arif, resigned. Hedescribed negotiations as a "masquerade".
Supporters of the treaty argue that it should not create any new laws, and that the measures are necessary to clamp down on growing levels of piracy.
However, UK-based privacy campaigner Big Brother Watch has called for a parliamentary debate on Acta, arguing that the treaty had been signed in "secret".
"It would be wholly wrong for the solution to avoid public scrutiny," the campaign's director Nick Pickles wrote in a letter to Business Secretary Vince Cable.
"I hope you would share my concern that the legislative process must be open for it to have any legitimacy."
In a statement sent to the BBC, a spokesman for the Department for Business, Innovation and Skills said: "The UK continually pushed for greater transparency in negotiations as we believed that it was a valuable aid to public understanding of the agreement.
"We were able to achieve some victories, such as publishing of the draft text in April 2010, but we were limited in what we could do as this was an international negotiation."
The treaty has yet to be ratified by the European Parliament, with a debate expected to take place in the summer.