Apple overturns Motorola's iPad and iPhone sales bans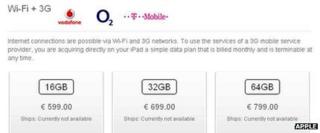 Apple has been granted a temporary suspension of a sales ban imposed on some of its products in Germany.
Motorola Mobility had forced Apple to remove several iPad and iPhone models from its online store earlier today after enforcing a patent infringement court ruling delivered in December.
An appeals court lifted the ban after Apple made a new licence payment offer.
However, Germany-based users may still face the loss of their push email iCloud service after a separate ruling.
Patent consultant Florian Mueller, who attended the review, said that the suspension may only last a few days or weeks - but that Apple's revised proposal had been enough to allow it to restart sales.
"The Karlsruhe higher regional court believes that Apple's new offer needs to be evaluated before this injunction can enter into force again,"he wrote on his blog.
"A suspension like this is available only against a bond, but Apple is almost drowning in cash and obviously won't have had a problem with obtaining and posting a bond."
He said that the bond amount was likely to have been about 120m euros ($158m, £100m).
Unresolved
A statement from Apple said: "All iPad and iPhone models will be back on sale through Apple's online store in Germany shortly.
"Apple appealed this ruling because Motorola repeatedly refuses to license this patent to Apple on reasonable terms, despite having declared it an industry standard patent seven years ago."
However, Motorola signalled that it would try to restore the ban.
"We are pleased that the Mannheim court has recognized the importance of our intellectual property and granted an enforceable injunction in Germany against Apple Sales International," a statement said.
"Although the enforcement of the injunction has been temporarily suspended, Motorola Mobility will continue to pursue its claims against Apple."
Pulled products
The sales ban relates to Motorola's patent for a "method for performing a countdown functionduring a mobile-originated transfer for a packet radio system".
Motorola licenses the patent to other companies on Frand (fair, reasonable and non-discriminatory) terms.
Frand-type patents involve technologies that are deemed to be part of an industry standard. In this case Motorola's innovation is deemed crucial to the GPRS data transmission standard used by GSM cellular networks across the world.
Companies must offer Frand-type patents for a reasonable fee to anyone willing to pay.
Apple had previously said it would be willing to pay the fee going forward, but the two firms dispute how much Apple should pay for failing to license the technology up until now. Missed payments are not covered by the "reasonable" rule, and Motorola is able to demand a more expensive price.
Apple's iPhone 3G, iPhone 3GS and iPhone 4 had all been affected - but not its newer iPhone 4S. All 3G models of the iPad were involved, but not their wi-fi-only counterparts.
Email technology
The separate push email ban would only come into effect if Motorola decided to enforce a second judgement that Apple's iCloud and MobileMe infringed another of its innovations.
The patent relates totwo-way communications between pagers and other devicesand was granted in 2002.
If Motorola decides to enforce the judgement some iPhone users in Germany would lose the ability to automatically receive emails as soon as they have been sent. Instead they would either have to manually check their accounts or set their devices to periodically check for updates.
This patent is not deemed to be critical to an industry standard, so the firm does not have to license the technology to Apple even if the iPhone-maker offered to pay.
Apple said that it believed the patent involved was invalid, adding that it was appealing against the decision.
Although the two cases only apply to Germany they may have implications for other European lawsuits. EU rules say different countries' courts can reach different conclusions, but must explain why.
Mr MuellerMr Mueller notes on his blogthat Apple has brought patent claims of its own against Motorola in Germany, and that Motorola also faces a lawsuit filed by Microsoft which is due to be considered next Tuesday.