Fight! Fight! Microsoft and Google square up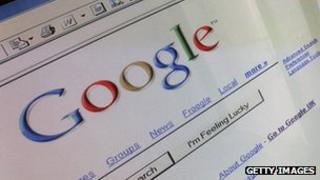 Google's new privacy policy, which effectively puts all of your data from its various applications into the same pot, has not met with universal approval.
In Washington lawmakers have been asking some tough questions, and today an EU data protection committee has called on Google to "pause" the new policy while its implications are considered.
But the most vociferous - and expensive - campaign against the policy has come from Microsoft, another technology firm that makes extensive use of personal data.
The company took out big adverts in American newspapers this week, suggesting that Google was collecting more and more data about its users in order to make ever more cash from advertisers.
This was followed up with a YouTube video featuring "Gmail Man", who serves a woman with an advert for an ointment after reading her email and spotting the keywords "burning" and "sensation".
Google, surprise surprise, is furious about this campaign, and claims that Microsoft is telling untruths about its policies while being less than frank about its own. And a quick scan of Microsoft's own privacy policy for its Bing search engine does turn up this:
"We may use search query data for the purpose of personalizing the ads we display to you as you use our services or those of our advertising partners."
Microsoft says, though, that its Hotmail service does not examine keywords for targeted advertising in the way that Gmail does, and does not use data from one service to target advertising in another. Google responds by pointing out that Gmail has been doing the same thing since 2004 and has always made it clear.
Google feels that on a key issue for its industry like privacy, the web giants should speak to the regulators with a united voice rather than making trouble for each other.
That may be unrealistic. Microsoft feels that Google has no right to complain about hostile adverts, given the money it has poured into its own "Go Google" ads recently. And, having suffered in the regulatory spotlight for years, it appears to be enjoying the fact that Google has now become the target on issues ranging from privacy to competition.
I can't help noticing that a PR firm called Burson Marsteller sends me an email every now and then about some incident showing Google in a bad light. They are, of course, employed by Microsoft.
It may be unseemly, but the war of words between Microsoft and Google looks certain to provide plenty of entertainment for onlookers. And, for all the peace and love streaming out of Google's Californian headquarters, they are not above a bit of fighting talk themselves.
"My advice to them is focus on your own business," a source at the firm told me, pointing out that Microsoft didn't really have an online business to speak of right now.